FPDA, IFPS and NFPA:

Three Associations Connecting to Address Distinct Needs in the Fluid Power Industry
A Message from President Mike Hamzey and Executive Director Trish Lilly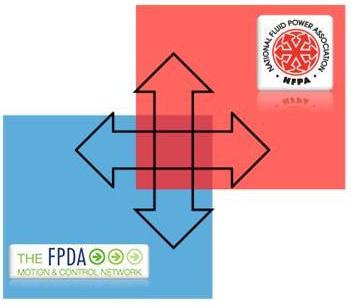 The 2014 NFPA Annual Conference held during the first week of February was a great opportunity to network with our colleagues across the fluid power supply chain. During this meeting, the members of the FPDA leadership met with members of the NFPA leadership for the second time in just the past few months to discuss how we can enhance our working partnership for the benefit of the industry. As a result of this latest meeting, we want to share with you our joint message to our respective memberships.
FPDA and NFPA initially discussed and defined the unique role that each association plays in the fluid power marketplace. We recognize that confusion exists as to the purposes and the intersections of these two organizations. Together, we have been working to build a common framework and to use it to shape and define appropriate areas of collaboration. In essence, this framework breaks down along two dimensions.
First, when we consider organizational focus, it is fair to think of NFPA as having broader reach than FPDA. FPDA is focused on the sustainability of its distributor organizations by enhancing their relationships with manufacturers and vendors. While NFPA's focus certainly includes the distributor/manufacturer relationship, it also includes other relationships across the fluid power supply chain. Suppliers, manufacturers, distributors, machine builders, and machine users are all part of the long-term organizational vision that NFPA is pursuing.
Secondly, when it comes to technology focus, it is also fair to think of FPDA as having broader reach than NFPA. NFPA is focused squarely on hydraulics and pneumatics and how those technologies can grow and compete in the marketplace. While FPDA's focus certainly includes hydraulics and pneumatics, it also includes other technologies that are important to the automation, motion control and power transmission needs of our customers.
Viewing the two organizations along these lines clearly delineates their distinct zones of focus and influence—and emphasizes the reason two organizations make sense for the fluid power industry. The intersection point where collaboration serves the interests of both FPDA and NFPA members also becomes much clearer.
Right now, that collaborative effort is focused on the Fluid Power Systems Conference—an annual event where FPDA and NFPA work together with the IFPS to present information on designing and maintaining energy efficient and reliable fluid power systems to machine builders and machine users. This provides a unique opportunity to leverage the distinct technology and organizational strengths of both FPDA and NFPA to achieve a common purpose. We are currently preparing for the fourth Fluid Power Systems Conference and details will be forthcoming.
As FPDA continues to pursue our strategy, we will actively explore additional opportunities such as the Fluid Power Systems Conference to connect our members with stakeholders across the fluid power supply chain. We will continue to keep you informed on our discussions with NFPA and welcome any ideas and input you may have for future collaborations. Below you will find a link to a short Power Point visual to help you better understand our efforts.
Sincerely,
Mike Hamzey, President, FPDA
Trish Lilly, Executive Director, FPDA
Please view the following slide show: