University of Industrial Distribution

March 9-12, 2014

JW Marriott Indianapolis Hotel
Indianapolis, IN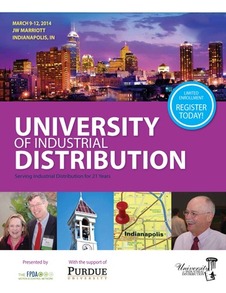 The University of Industrial Distribution is presented by the leading industry trade associations and delivered by content experts and nationally recognized university faculty members, the UID program is recognized as "the source for distribution management."
Here's a look at the 2014 University:
UID 2014 Course Schedule
UID 2014 Course Instructors
Participants select their own courses for each day of the four-day program, including such topics as: Distribution Marketing; Branch Management; Sales & Sales Management; Value-Added Selling; Business Leadership; Distribution and Profitability.
UID participants will earn credits toward their Certificate in Industrial Distribution, provided by Purdue University upon the completion of 90 hours (9 CEUs) of qualified educational instruction. For more detailed information about receiving your Certificate in Industrial Distribution, click on the links below:
Application for Certification in Industrial Distribution
Purdue Certificate in Industrial Distribution Information
For more information or questions regarding the March 2013 or 2014 UID Program or Registration, please call the AEA Office (410) 940-6348.