University of Innovative Distribution

March 5-8, 2017

JW Marriott Indianapolis Hotel
Indianapolis, IN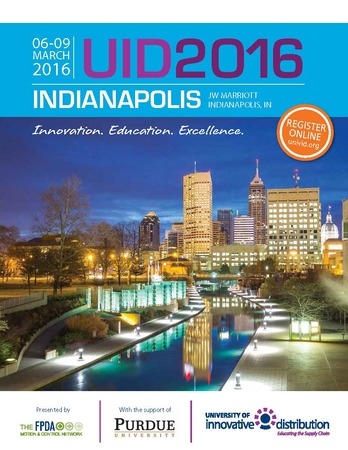 The University of Innovative Distribution is presented by the leading industry trade associations and delivered by content experts and nationally recognized university faculty members, the UID program is recognized as "the source for distribution management."
Here's a look at the 2016 University:
Click here to view the brochure

Click here to see the full course descriptions
Click here to view the instructors
Participants select their own courses for each day of the four-day program, including such topics as: Distribution Marketing; Branch Management; Sales & Sales Management; Value-Added Selling; Business Leadership; Distribution and Profitability.
Tom D. Ralls Memorial Scholarship
Scholarship to be Awarded One Scholarship to the University of Innovative Distribution will be awarded for each session of the University of Innovative Distribution each year. The awarded scholarship will be for full tuition to the University of Innovative Distribution; travel expenses are to be paid by the scholarship recipient.
Criteria
Applicant must be an employee in good standing of an FPDA Regular (Distributor) Member organization.
Applicant must be a qualified member of the FPDA Young Executives (YES).
Applicant must provide a letter of recommendation from a company principal.
Applicant must provide an essay detailing his/her desire to attend the University of Innovatie Distribution program.
UID participants will earn credits toward their Certificate in Innovative Distribution, provided by Purdue University upon the completion of 90 hours (9 CEUs) of qualified educational instruction. For more detailed information about receiving your Certificate in Innovative Distribution, click on the links below:
Application for Certification in Innovative Distribution
Purdue Certificate in Innovative Distribution Information
For more information or questions regarding the March 2017 UID Program, please call the UID Office (410) 940-6348.