Complete Story

05/22/2008
Samuel Silver, M.D., PhD, FACP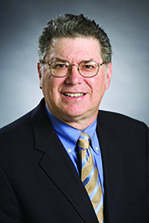 Sam Silver is a Professor in the Division of Hematology/Oncology in the Department of Internal Medicine and Assistant Dean of Research at the University of Michigan Medical School as well as Director of the University of Michigan Cancer Center Network. He has been at the University of Michigan since 1986, and was director of the Bone Marrow Transplantation Program for nine years, prior to taking his present position. As the medical director of the Adult Bone Marrow Transplantation Program from 1990 to 1997, Dr. Silver expanded the program into one of the country's largest transplant sites.
Dr. Silver received his undergraduate degree in Chemistry with highest honors from Brandeis University in Waltham, Massachusetts, his PhD in Virology from Rockefeller University, and his medical degree from Cornell University Medical College. Dr. Silver received internal medicine training at the University of California in San Francisco and did his hematology/oncology fellowship at the University of Pennsylvania.
He has worked as the principal investigator for numerous clinical research studies involving a range of topics, such as malignant hematology and the quality of oncology care. He represented the University of Michigan as co-convener of the Michigan Cancer Consortium (MCC) Clinical Trials Priority Initiative.
Throughout his career, Dr. Silver has focused on issues involving practice and reimbursement and he is recognized nationally for his involvement in clinical reimbursement and coding. He is a member of the Steering Subcommittee of the Clinical Practice Committee of the American Society of Clinical Oncology and served on ASCO's Workforce in Oncology Task Force and the ASCO Quality of Care Committee. He received a Statesman Award from ASCO for his significant volunteer efforts in 2008. Dr. Silver is Chairman of the American Society of Hematology Subcommittee on Reimbursement, a former Councilor on the ASH Executive Committee, and a former Director of the American Society of Blood and Marrow Transplantation. He represents ASH to AMA's CPT Advisory Committee and is the hematology advisor to the AMA RUC.
Dr. Silver serves on the editorial board of several scientific journals. He is a member of the American Society for Blood and Marrow Transplantation, and a Fellow of the American College of Physicians and the American Heart Association.
A longtime advocate of quality in oncology care, Sam established Michigan's first statewide consortium on quality breast cancer care. He has been Project Director of the Michigan Breast Oncology Quality Initiative (MiBOQI) since its founding in 2004. MiBOQI is a consortium of 17 hospital systems, and has collected data on >10,000 women with breast cancer in a collaboration with the National comprehensive Cancer Network (NCCN) and Blue Cross Blue Shield of Michigan/Blue Care Network (BCBSM/BCN) to establish a statewide, quality improvement initiative using the NCCN Breast Cancer Outcomes Database (BCOD) model. Over 300 data elements in the BCOD are collected prospectively for newly diagnosed breast cancer cases and concordance is assessed with the NCCN guidelines active at the time of patient treatment.
Although it seems impossible, Sam does manage to work in some free time. He and his wife, Nancy, enjoy playing golf, but Nancy also has a busy career schedule as a meeting and special events planner for the Office of Undergraduate Admissions at the University of Michigan. Their children must admire their parents' career choices since their son, Aaron, has just begun his internal medicine residency at Northwestern after graduating from U of M Medical School and their daughter, Emily, is currently in an internship program at Disney World after graduating from MSU's School of Hospitality Business this spring.
MSHO has been fortunate enough to have Sam Silver on our Board of Directors since 1991. He has taken on numerous responsibilities on behalf of the Society, including Course Director for our ASH and ASCO Updates in conjunction with U of M. During his tenure as MSHO President, Sam facilitated MSHO's first strategic planning retreat. He spent many years as the Michigan's Hematology Carrier Advisor Committee member for WPS and the Society has benefitted from his efforts and the relationships he established in that role.