Complete Story

03/26/2010
Michael J. Stender, M.D.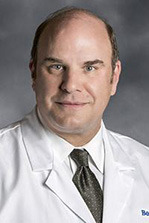 Mike Stender has been a willing and active participant in the MSHO Board of Directors since being elected in 2009.
He is a quadruple degree holder from Wayne State University in Detroit. His undergraduate majors were Chemistry and Biology. Five years later, Mike received his Master of Science in Biological Sciences and after four more years of study, he graduated from the School of Medicine. Dr. Stender completed an internal medicine residency and a Medical Oncology and Hematology fellowship at Indiana University in Indianapolis. He is certified by the American Board of Internal Medicine with a subspecialty certificate in both medical oncology and hematology.
Dr. Stender's research experience includes several years of molecular biology research at the Michigan Cancer Foundation. He was awarded the Fellowship Award by the American Society of Clinical Oncology in 1997 for outstanding research contribution in breast cancer. He has also been a member of the Human Investigation Committee at William Beaumont Hospital.
Dr. Stender is a partner at Cancer Care Associates in Royal Oak and is on staff at William Beaumont Hospital in both Royal Oak and Troy, where he holds a number of professional appointments and responsibilities. He has been a lecturer and coauthor of a number of publications.
In addition to MSHO, Dr. Stender is also a member of the American Society of Clinical Oncology, American Society of Hematology, American College of Physicians, American Medical Association and the Michigan State Medical Society.
When he gets a chance, Mike enjoys cycling and has participated in the MS 150 – a 150-mile, 2-day bike ride. This demanding, but rewarding, event raises funds for multiple sclerosis research. Dr. Stender also loves golf, likes to cook and travels when time allows.