07/26/2013
Special Limited Edition of the BOSTON STRONG Giclee - ORDER NOW!
Special Limited Edition of the BOSTON STRONG Giclee. Commemorate NCDA's 100th anniversary by ordering your print now!
FOR NCDA 2013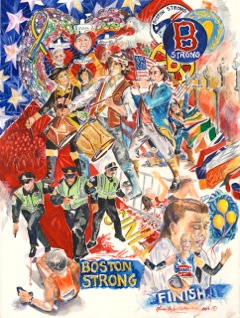 A beautiful BOSTONSTRONG Giclee was exhibited throughout the NCDA Centennial Conference. At the Centennial Gala Celebration, it was presented to NCDA President Rich Feller and NCDA Executive Director Deneen Pennington, for the NCDA Archives, in front of conference attendees and the Lexington Minutemen Color Guard, several of whom are portrayed in the actual Giclee.
Underneath BOSTONSTRONG on the Giclee presented to NCDA, the artist wrote in, NCDA 2013, NVGA 1913, and Frank Parsons 1909, making it a one-of-a-kind Giclee for NCDA. A Giclee is a form of high-quality printmaking.
The artist, Elaine Ostrander, has agreed to provide an 8X10 Limited Edition of the original Giclee that will include, For NCDA 2013, and the artist's signature.
This will be available for anyone who might want it as a memory of this historic NCDA Centennial Conference in Boston, MA where vocational guidance was "birthed" in 1909 with Frank Parsons and formalized in 1913 with the creation of the National Vocational Guidance Association, later renamed NCDA in 1985.
The cost for this wonderful NCDA Boston Centennial memory is $40, which includes shipping and handling. Please contact NCDA to order your Giclee print at 866-FOR-NCDA or dpennington@ncda.org.
This is a Limited Edition offer directly from the artist, Elaine Ostrander, whose works include United We Rise, a tribute to 911, which is found in firehouses across the country and homes around the world. Her marathon tribute, BOSTON STRONG, and her Newtown tribute, NEWTOWN ANGELS, are being sold as prints with some of the proceeds going to various causes. Other work by the artist may be seen at the Felos Memorial Art Center website www.felosart.com .