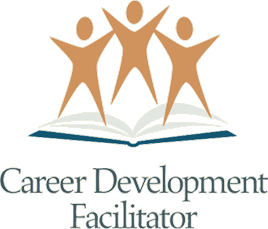 Career Development Facilitator
Find an Instructor
Training Calendar
September 1 - November 30, 2016
eLEARNING/HYBRID
Multiple Locations/Flexible Options
September 1 - December 1, 2016
eLEARNING/HYBRID
Multiple Locations/Flexible Options
September 1, 2016
eLEARNING/HYBRID
Flexible Scheduling
View complete calendar
Instructors
Becoming an eLearning Instructor
Instructor Survey
Instructing an eLearning curriculum is not for everybody. As you consider whether you'd like to become an NCDA eLearning Qualified Instructor, there's a series of questions you need to ask yourself. To assist you in this consideration, NCDA has developed the following questions. Please answer the following:

REQUIRED COMPUTER EQUIPMENT
I own (or have regular access to):
A DVD drive on my computer
Internet browser
28,800 bps or faster modem, or direct connection to the Internet
My own Email account
Audio capability
Printer
Adobe Acrobat Reader (free download)
Windows Media or Real Player
Word processing program (MS Word preferred)
Sufficient memory (256MB Ram of more)
MS Windows version 98 or higher
Required Technical Skills
Logically navigate the Internet
Understand terms such as mouse, drag, open, select, file, choose, double click, download, upload, send etc.
Send, open, reply to, forward and attach an e-mail message
Word process documents
Demonstrate confidence in my technology troubleshooting abilities or I have access to technology support
Questions to Consider:
Do you think eLearning will take more or less time per student then the traditional format?
WHY: Research and instructor experience shows that eLearning will require more of the instructor's time per student than a traditional classroom setting.
How much time per week do you have to provide to the instruction of the eLearning Curriculum?
WHY: You will need to plan for additional hours per student per week to instruct the eLearning curriculum.
Do you have access to e-mail frequently (at least daily during weekdays)?
WHY: The primary mode of communication between an eLearning instructor and student is via E-mail. It is important you have access and ability of E-mail use to be successful in instructing the NCDA eLearning course.
Will you typically be able to respond to student questions (by e-mail or phone) within a reasonable time frame?
WHY: eLearning students deserve the same timeliness in a response that you would give to students in a typical classroom setting. Being a responsible eLearning instructor means that you make a commitment to respond to student questions as soon as possible.
Are you comfortable with computer operations and software, including; Word, Excel, PowerPoint, Media Players, Adobe Acrobat Reader, and others?
WHY: While you do not have to be a techno-wizard to instruct an eLearning course, you certainly need to have knowledge and a comfort-level with the technology and basic software use so that you can convey this comfort level to your students as well as be able to answer basic technology questions that may arise.
Can you be accessible by phone for students?
WHY: Some students may have questions they want to discuss by phone, or may be having technical difficulties and can only use a phone. You should encourage students to communicate via E-mail and other on-line methods, but you need to consider how/when you could receive phone calls from students. You may need to consider any additional costs that could be incurred from increased phone usage.
Are you comfortable providing basic technical assistance to your eLearning students (i.e., attaching word documents to E-mail, downloading Adobe Acrobat Reader, opening documents, etc.)?
WHY: Students typically look to their course instructor as the first contact for many types of problems they are encountering with their eLearning. Being able to answer basic technical questions for your students will aide in their success in the course. If you are not comfortable with these types of questions, you either need to have another source they can turn to for the answers or you may want to stay with delivering the original NCDA face-to-face curriculum until you feel comfortable, or make other arrangements.
Do you have experience with eLearning (as an instructor or student)?
WHY: While it is certainly not required that you have this experience, if you have had some, it will give you a strong indication of whether this format of instruction is for you. Another indicator may be other forms of service delivery provided by E-mail, such as Career Coaching at a distance.
Do I enjoy communicating via reading and writing?
WHY: If you are an instructor that thrives on the open dialogue of a face-to-face classroom setting, you need to consider how you will adapt to this on-line environment. You not only need to have strong reading and writing skills to be a successful eLearning instructor, you should enjoy that method of instruction and delivery.
Can I successfully manage multiple student knowledge-levels and self-paced learning?
WHY: Not only is it important to understand the different learning styles and preferences of adult learners, students will present at a wide variety of skill sets and abilities. It is critical that eLearning instructors have the ability to manage different styles and paces of their students.
Can I successfully manage students being at various stages in the curriculum simultaneously?
WHY: Time-management will be critical to your success as an eLearning instructor. You also need to be comfortable in having students be at different stages in the curriculum at the same time. If you would prefer all your students begin and progress through the curriculum together, you may find that sticking with the original face-to-face delivery of the curriculum suits you best.
Are you comfortable addressing student problems and issues at a distance?
WHY: Students are students, no matter the mode, and some who enroll in the eLearning will present the same concerns of those you've had in the traditional classroom. You need to consider how you will address these concerns through eLearning, and if you feel comfortable and confident in doing so.
Are you comfortable and able to motivate and encourage students at a distance?
WHY: Again, you will not have that traditional face-to-face format many of us have come to rely on as Instructors. You may need to adapt your instructional/facilitation style as an eLearning instructor. If you question your ability to encourage and motivate without face-to-face contact, determine how you will manage this before making a commitment to eLearning instruction.
Will you be able to deliver the face-to-face required competencies?
WHY: Besides the evaluation of materials submitted to you via computer, you are required to provide face-to-face instruction in two of the competencies; Helping Skills and Group Facilitation. How you will deliver these competencies needs to be considered before committing to this format for instruction.
Can I effectively determine if a student can be successful via eLearning?
WHY: Before accepting students for NCDA eLearning, you need to evaluate their ability to be successful in the mode of learning. Besides the questionnaire provided by NCDA, you need to consider what other questions you may want to ask your potential students in consideration of enrollment in the course.