NCDA Guidelines for the Use of the Internet for Provision of Career Information and Planning Services


Guidelines for Use of the Internet for Delivery of Career Counseling and Career Planning Services
Professional and Ethical Guidelines Related to the Use of the Internet for Job Posting and Searching
Unacceptable Counselor Behaviors on the Internet
Need for Research and Review


Introduction
Based on readily-available capabilities at the time of this writing, the Internet could be used in four ways for the purpose of providing career counseling and/or career planning services to clients. These are:
To deliver information about occupations, including their descriptions, employment outlook, skills requirements, estimated salary, etc. through text, still images, graphics, and/or video. In this event, the standards for information development and presentation are the same as those for print materials and audiovisual materials as stated in NCDA's documents on these matters.
To provide online searches of occupational databases for the purpose of identifying feasible occupational alternatives. In this event, the standards developed by NCDA and the Association of Computer-based Systems for Career Information (ACSCI) apply.
To deliver interactive career counseling and career planning services. This use assumes that clients, either as individuals or as part of a group, have intentionally placed themselves in direct communication with a professional career counselor. Standards for use of the Internet for these purposes are addressed in this document.
To provide searches through large databases of job openings for the purpose of identifying those that the user may pursue. Guidelines for this application are included in this document.
---


Guidelines for Use of the Internet for Delivery of Career Counseling and Career Planning Services
Career planning services" are differentiated from "career counseling" services. Career planning services include an active provision of information designed to help a client with a specific need, such as review of a resume; assistance in networking strategies; identification of occupations based on interests, skills, or prior work experience; support in the job-seeking process; and assessment by means of online inventories of interest, abilities, and/or work-related values. Although "Career Counseling" may include the provision of the above services, the use of the term implies a deeper level of involvement with the client, based on the establishment of a professional counseling relationship and the potential for dealing with career development concerns well beyond those included in career planning.

Multiple means of online provision of career planning or career counseling services currently exist, the most common of which are e-mail, newsgroups, bulletin boards, chat rooms, and websites offering a wide variety of services. Telephone or audiovisual linkages supported by the Internet exist in their infancy, and will likely grow in potential as the technology improves and the costs decline.
Qualifications of Developer or Provider


Websites and other services designed to assist clients with career planning should be developed with content input from professional career counselors. The service should clearly state the qualifications and credentials of the developers not only in the content area of professional career counseling, but also in the development of interactive online services.

Access and Understanding of Environment


The counselor has an obligation to be aware of free public access points to the Internet within the member's community, so that a lack of financial resources does not create a significant barrier to clients accessing counseling services or information, assessment or instructional resources over the internet.

The counselor has an obligation to be as aware as possible of local conditions, cultures, and events that may impact the client.

Content of Career Counseling and Planning Services on the Internet


The content of a website or other service offering career information or planning services should be reviewed for the appropriateness of content offered in this medium. Some kinds of content have been extensively tested for online delivery due to the long existence of computer-based career information and guidance systems. This includes searching of databases by relevant search variables; display of occupational information; development of a resume; assessment of interests, abilities, and work-related values and linkage of these to occupational titles; instruction about occupational classification systems; relationship of school majors to occupational choices; and the completion of forms such as a financial needs assessment questionnaire or a job application.

When a website offers a service which has not previously been extensively tested (such as computer-based career guidance and information systems), this service should be carefully scrutinized to determine whether it lends itself to the Internet. The website should clearly state the kinds of client concerns that the counselor judges to be inappropriate for counseling over the Internet, or beyond the skills of the counselor.

Appropriateness of Client for Receipt of Services via the Internet


The counselor has an ethical and professional responsibility to assure that the client who is requesting service can profit from it in this mode. Appropriate screening includes the following:

a. A clear statement by clients of their career planning or career counseling needs.

b. An analysis by the counselor of whether meeting those needs via Internet exchange is appropriate and of whether this particular client can benefit from counseling services provided in this mode. A judgment about the latter should be made by means of a telephone or videophone teleconference designed to specify the client's expectations, how the client has sought to meet these through other modes, and whether or not the client appears to be able to process information through an Internet medium.

Appropriate Support to the Client


The counselor who is providing services to a client via the Internet has ethical responsibility for the following:

a. Periodic monitoring of the client's progress via telephone or videophone teleconference.

b. Identification by the counselor of a qualified career counselor in the client's geographic area should referral become necessary. If this is not possible, the web counselor using traditional referral sources to identify an appropriate practitioner, should assist the client in the selection of a counselor.

c. Appropriate discussion with the client about referral to face-to-face service should the counselor determine that little or no progress is being made toward the client's goals.

Clarity of Contract with the Client



The counselor should define several items in writing to the client in a document that can be downloaded from the Internet or faxed to the client. This document should include at least the following items:

a. The counselor's credentials in the field.

b. The agreed-upon goals of the career counseling or career planning Internet interchange.

c. The agreed-upon cost of the services and how this will be billed.

d. Where and how clients can report any counselor behavior which they consider to be unethical.

e. Statement about the degree of security of the Internet and confidentiality of data transmitted on the Internet and about any special conditions related to the client's personal information (such as potential transmission of client records to a supervisor for quality-control purposes, or the collection of data for research purposes).

f. A statement of the nature of client information electronically stored by the counselor, including the length of time that data will be maintained before being destroyed.

g. A statement about the need for privacy when the client is communicating with the counselor, e.g., that client communication with the counselor is not limited by having others observe or hear interactions between the counselor and client.

h. If the service includes career, educational, or employment information, the counselor is responsible for making the client aware of the typical circumstances where individuals need counseling support in order to effectively use the information.

Inclusion of Linkages to Other Websites


If a career information or counseling website includes links to other websites, the professional who creates this linkage is responsible for assuring that the services to which his or hers are linked also meet these guidelines.

Use of Assessment


If the career planning or career counseling service is to include online inventories or tests and their interpretation, the following conditions should apply:

a. The assessments must have been tested in computer delivery mode to assure that their psychometric properties are the same in this mode of delivery as in print form; or the client must be informed that they have not yet been tested in this same mode of delivery.

b. The counselor must abide by the same ethical guidelines as if he or she were administering and interpreting these same inventories or tests in face-to-face mode and/or in print form.

c. Every effort must be exerted to protect the confidentiality of the user's results.

d. If there is any evidence that the client does not understand the results, as evidenced by e-mail or telephone interchanges, the counselor must refer the client to a qualified career counselor in his or her geographic area.

e. The assessments must have been validated for self-help use if no counseling support is provided, or that appropriate counseling intervention is provided before and after completion of the assessment resource if the resource has not been validated for self-help use.

Back to Top


---





Professional and Ethical Guidelines Related to the Use of the Internet for Job Posting and Searching




The posting must represent a valid job opening for which those searching on the Internet have an opportunity to apply.
Job postings must be removed from the Internet database within 48 hours of the time that the announced position is filled.
Names, addresses, resumes, and other information that may be gained about individuals should not be used for any purposes other than provision of further information about job openings.



Back to Top


---





Unacceptable Counselor Behaviors on the Internet

Use of a false e-mail identity when interacting with clients and/or other professionals. When acting in a professional capacity on the Internet, a counselor has a duty to identify him/herself honestly.
Accepting a client who will not identify him/herself and be willing to arrange for phone conversation as well as online interchange.
"Sharking" or monitoring chat rooms and bulletin board services, and offering career planning and related services when no request has been made for services. This includes sending out mass unsolicited e-mails. Counselors may advertise their services but must do so observing proper "netiquette" and standards of professional conduct.



Back to Top


---





Need for Research and Review


Since the use of the Internet is new for the delivery of career planning and counseling services, it is mandatory that the career counseling profession gain experience with this medium and evaluate its effectiveness through targeted research. The capabilities of Internet delivery of services will expand rapidly as the use of sound and video becomes more feasible. These early guidelines will need constant monitoring and revision as research data become available and additional capabilities become cost-feasible.
Back to Top


---




Approved by the NCDA Board of Directors, October 1997.

Developed by members of the NCDA Ethics Committee:

Dr. David Caulum, Don Doerr, Dr. Pat Howland, Dr. Spencer Niles, Dr. Ray Palmer, Dr. Richard Pyle (Chair), Dr. David Reile, Dr. James Sampson, and Dr. Don Schutt

---

NCDA Long Term Plan
In April 2015, the NCDA Board announced an updated Long Term Plan.
Click here to read the seven areas the Board has decided to focus on and the steps being taken.
Career Developments Magazine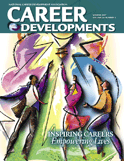 Career Developments is a themed publication offering articles that balance a broad vision with practical applications. All NCDA members receive this as a benefit of membership. Learn more about Career Developments.