Leadership Academy Classes

NCDA Long Term Plan
In April 2015, the NCDA Board announced an updated Long Term Plan.
Click here to read the seven areas the Board has decided to focus on and the steps being taken.
Career Developments Magazine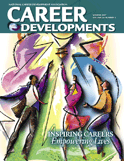 Career Developments is a themed publication offering articles that balance a broad vision with practical applications. All NCDA members receive this as a benefit of membership. Learn more about Career Developments.