Career Developments Magazine
Career Developments, the NCDA magazine for members-only, is a themed publication offering articles that balance a broad vision with practical applications. Published four times per year, each issue offers a focused article on a select theme, a feature article on a prominent NCDA event, specific content for five departments, and four regular columns. The Publication Schedule and Editorial Team is listed below, or click here for complete Submission Guidelines. The Fall 2014 Issue is focused on technology and social media. This issue is filled with resources to help career counselors and specialists "plug in" and integrate technology and social media into the work they are doing with their clients. In this issue, our contributors address how critical it is for career counselors and specialists to use and understand technology and social media when working with students and adults, and the importance of helping clients to understand both the positive and negative impacts of usage.
Fall 2014 Focus:
Career Management: The Power of Social Media and Technology in a Digital World
By Nancy Richmond
Living in an increasingly digital word, it is critical for career professionals and their clients to know how to effectively management their careers using social media and technology. This articles provides an overview of how career professionals can use social media and technology to help their clients reach their career goals. Strategies and resources are provided to better understand how to creatively and effectively use technology and social media within the field of career development, with emphasis on the role of social media for the purpose of networking, exploring career options, job searching and professional development.
Nancy Richmond, PhD (www.nancyrichmond.com) is a Professor teaching personal branding and social media courses at Florida International University. She is the founder of the "Career Counselor Technology Forum" on LinkedIn.
Members can read the full article in the magazine.
Non-members are invited to join NCDA to receive this benefit, and lots more!
---
Editors

Current Editor, as of September 1, 2013, Jenn Long
Founding Editor, 2007-2010, Melanie Reinersman
Second Editor, 2010-2013, Tim Lutenski
Publication Schedule
Issue Date
Focus
Feature
*Deadline
Winter Dec 2014
Servicing the Career Needs of Military Veterans
Supporting Military Veterans:
NCDA Insights & Initiatives
Sept. 8, 2014
Spring 2015
International Issues in Career
Development: A Global Perspective
NCDA Global Career Development Conference
Dec. 8, 2014
Summer 2015
Navigating Career Uncertainty and Change
tba
Mar. 8, 2015
Fall 2015
Integrating Theory, Research & Practice in Career Development
NCDA Award Winners
June 8, 2015
Winter Dec 2015
Career Development in Business & Industry
tba
Sept 8, 2015
* This is the deadline for the final submission. Please contact an editor in advance of this deadline if you would like to contribute.
Advertising opportunities for future issues are available (see Ad Rate Card) by contacting Deneen Pennington at dpennington@ncda.org or call toll-free 1-866-FOR-NCDA.
Editorial Staff
| | |
| --- | --- |
| Jenn Long | Melissa Messer |
| Elizabeth Craig | School Counselor's Dept. |
| Mary Buzzetta | Constance Pritchard |
| Alicia Kirkpatrick | Keley Smith-Keller |
| Charles Lehman | Melanie Reinersman, NCDA Website Editor & Web Magazine Editor |
In this section

Career Developments Magazine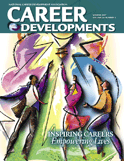 Career Developments is a themed publication offering articles that balance a broad vision with practical applications. All NCDA members receive this as a benefit of membership. Learn more about Career Developments.
Fall 2014
TABLE OF CONTENTS
Focus
Career Management: The Power of Social Media and Technology in a Digital World
By Nancy Richmond

Feature
The 2013-14 NCDA Awards and National Career Development Month
By Melissa A. Messer
Special Features
NCDA Merging Membership Categories and Designations
NCDA Elections: Moving to Summer!
By Lisa Severy

Columns
From the President:
Technology and Social Media Hit Every Aspect of Life
By Lisa Severy
Thought Leader Insights
By Jenn Long
From the Executive Director:
Ever-Changing Technology - Today and the Wave of the Future
By Deneen Pennington
Ethics in a Nutshell
By Julia Panke Makela
On the Web
By Melanie Reinersman
Departments
Professional Counselors
LinkedIn for Private Practice: The Fundamentals
By Elizabeth Craig and E. Chandlee Bryan

School Counselors
Students and Social Media: A Career Development Perspective
By Amy Armon

Graduate Students
Interviewing, Recruiting, and Hiring in the New Technology Era
By Sherrina S. Lofton

Career Development Facilitator
Pro-Actively Using Social Media in the Career Search
By Adriana Ghan