Career Developments Magazine
Career Developments, the NCDA magazine for members-only, is a themed publication offering articles that balance a broad vision with practical applications. Published four times per year, each issue offers a focused article on a select theme, a feature article on a prominent NCDA event, specific content for five departments, and four regular columns. The Publication Schedule and Editorial Team is listed below, or click here for complete Submission Guidelines. VIEW A SAMPLE ARTICLE NOW: " Veterans And Career Development Challenges Opportunities For Professionals Ncda" (Miles & Lehman, Winter 2014) This issue of Career Developments offers a foundation for career counselors and professionals to gain a greater understanding of international issues in career development and access tools to address the unique challenges that result from an ever-changing global marketplace. We are fortunate to have contributors from all over the globe for this issue, including authors from Canada, Australia, Egypt, Korea, Turkey, and Taiwan. In addition diverse perspectives, this issue also contains information on the upcoming NCDA Global Career Development Conference being held in Denver later this year.
Spring 2015 Focus - Overview:
Career Development in a Global Economy: The Diverse Impact of Global Mobility
By Roberta Neault
There has been rich international debate about the impact of a global economy on the career development of individuals. Perspectives are, in part, influenced by the personal effect global mobility may have had. In this context, global mobility is defined as relocation (voluntary or involuntary) between countries, for work.
Both the NCDA and the International Association of Educational and Vocational Guidance (IAEVG) have long played important roles in championing career development internationally and establishing competency frameworks for career professionals in various regions of the world. Career counselors and specialists are also increasingly concerned with social justice; the unequal distribution of global wealth as well as the devastating impacts of poaching any country's talented citizens.
Roberta A. Neault, PhD, CCC, CCDP, GCDFi (roberta@lifestrategies.ca), is President of Life Strategies Ltd. (www.lifestrategies.ca.) and Associate Dean of the Faculty of Behavioural Sciences at Yorkville University, both in Canada. She has traveled to more than 60 countries on 6 continents, working in (or from) many of them.
Members can read the full article in the magazine.
Non-members are invited to join NCDA to receive this benefit, and lots more!
---
Editors

Current Editor, as of September 1, 2013, Jenn Long
Founding Editor, 2007-2010, Melanie Reinersman
Second Editor, 2010-2013, Tim Lutenski
Publication Schedule
| Issue Date | Focus | Feature | *Deadline |
| --- | --- | --- | --- |
| | | | |
| Summer 2015 | Navigating Career Uncertainty and Change | Leadership Academy | Mar. 8, 2015 |
| | | | |
| Fall 2015 | Integrating Theory, Research & Practice in Career Development | NCDA Award Winners | June 8, 2015 |
| | | | |
| Winter Dec 2015 | Career Development in Business & Industry | tba | Sept 8, 2015 |
| | | | |
| Spring March 2016 | Best Practices for Both New and Seasoned Professional | NCDA Global Career Development Conference | Dec 8, 2015 |
* This is the deadline for the final submission. Please contact an editor in advance of this deadline if you would like to contribute.
Advertising opportunities for future issues are available (see Ad Rate Card) by contacting Deneen Pennington at dpennington@ncda.org or call toll-free 1-866-FOR-NCDA.
Editorial Staff
| | |
| --- | --- |
| Jenn Long | Melissa Messer |
| Jessica Ayub | School Counselor's Dept. |
| Mary Buzzetta | Constance Pritchard |
| Heather Maietta | Keley Smith-Keller |
| Charles Lehman | Melanie Reinersman, NCDA Website Editor & Web Magazine Editor |
| Alicia Kirkpatrick Cheek | |
In this section

Career Developments Magazine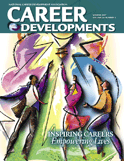 Career Developments is a themed publication offering articles that balance a broad vision with practical applications. All NCDA members receive this as a benefit of membership. Learn more about Career Developments.
Spring 2015
TABLE OF CONTENTS
Focus
Career Development in a Global Economy: The Diverse Impact of Global Mobilty

By Roberta Neault

Feature
Reimagining Life's Possibilities,Denver Style
By Lisa Severy and Mary Ann Powell
Special Features
What You Know About Career Development and Counseling is WEIRD!
By Brian Hutchison
Explore myNCDA Sample Forms
By Melissa A. Venable
Columns
From the President:

"It's a Small World After All" — Our Role in International Career Development
By Mark Danaher
Thought Leader Insights
By Jenn Long
From the Executive Director:
Engaging Career Professionals in Career Development Around the Globe
By Deneen Pennington
Ethics in a Nutshell
By Keley Smith-Keller
On the Web
By Melanie Reinersman
The Marketplace
By Charles Lehman
Departments
Professional Counselors & Specialists
The Dawn of Career Counseling Internationally
By Soonhoon Ahn, Marilyn Maze,and Ahmed Mostafa Kamal

School Counselors
Designing a Career Awareness Program for Turkish Students: A "How To" For School Counselors
By Hadiye Bostanci and Ragip Özyürek

Graduate Students
Interning Abroad: A unique Career Development Experience
By Karen Eichel

Career Development Facilitator
Building Career Services Internationally Through Collaboration and Partnerships

By Ivy Liao, Constance J. Pritchard and Malka Edelman
Higher Education
Understanding the Career Development Needs of International Students

By Elif Balin, Satomi Yaji Chudasma, and Elizabeth Knapp