Board of Directors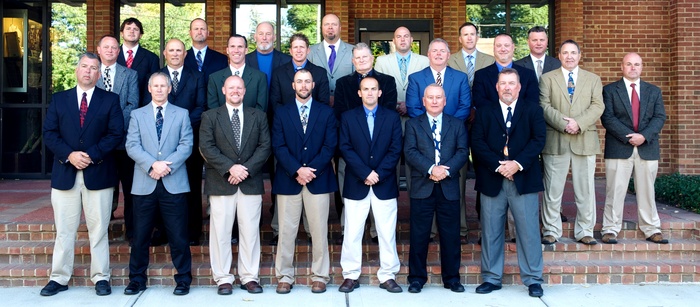 Front (L to R): Scott Manahan, Secretary, Lee Day, Past President, Don Schone, 2nd VP, Kevin Yoder, VP, Trevor Thomas, President, Frank Gamble, Consultant, and Dave Barrow, Treasurer.

Middle (L to R): Jeff Mielcarek, Business Manager/Team Ohio, Dave Hall, Website Coordinator, Rob Lavengood, NW Sr. Rep., Ryan Alexander, Central Jr. Rep., Jeff Noble, SE Jr. Rep., David Burkett, Historian, Ray Benjamin, Public Info. Director, Chad Spencer, NW Jr. Rep., and Jeff Keck, NE Sr. Rep.

Back (L to R) Steve Norris, NE Jr. Rep., Ray Hamilton, SW Jr. Rep., Curt Karpinski, Poll Director, Tom Neubert, 2nd VP elect, Matt Koenig, NE So. Rep., Mike Collopy, East Jr. Rep. and Brian Perkins, East Sr. Rep.

Absent: Jason Wright, SE Sr. Rep and Bruce Cahill, SW Sr. Rep.

OHSBCA Executive Board Members
PAST PRESIDENT
Westfall H.S.
School #: (740) 986-9211
Fax #: (740) 986-8897
Home #: (740) 986-2911

PRESIDENT

Tri-Valley High SchoolSchool #: (740) 754-2921Fax #: (740) 754-6415 Home – (740)575-4335

1st Vice President
Watkins Memorial High School

School#: (740) 927-3417
Fax#: (740) 964-0088
Home #: (740) 964-3542

2nd Vice President

St. Francis DeSales High School

School – (614)268-8519 Fax – (614)265-3378Home – (614)256-0682

TREASURER
St. Charles H.S.
Fax #: (614) 871-1975
Home #: (614) 871-1975

SECRETARY
Bishop Watterson High School
School #: (614) 268-8671
Fax #: (614)268-0551
Home #: (614) 436-6113

PUBLIC INFORMATION DIRECTOR
St. Charles H.S.
School #: (614) 252-6714
Fax #: (614) 833-9778
Home #: (614) 833-1736

OHSAA CONSULTANT
Massillon Perry H.S.
School #: (330) 478-6159
Fax #: (330) 478-6182
Home #: (330) 833-2863

POLL DIRECTOR
Elyria H.S.
Fax #: (440) 355-6432
Home #: (440) 218-9121

BUSINESS MANAGER/TEAM OHIO
Toledo Central Catholic H.S.
School #: (419) 244-6711 x609
Fax #: (419) 244-3420
Home #: (419) 382-9667

HISTORIAN
Tuslaw H.S.
School #: (330) 837-7800 x2127
Fax #: (330) 837-6016
Cell: 330.265.7310

WEBSITE COORDINATOR
Perrysburg H.S.
School#: (419) 874-3181Fax#: (419) 872-8813
Home#: (419) 874-0955