Ohioan Installed as AOA President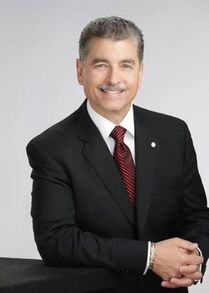 (July 19, 2014) Ohio's favorite son, Robert S. Juhasz, DO, of Cleveland, was installed as the 118th president of the American Osteopathic Association, July 19, telling more than 600 members of the AOA House of Delegates, "I am so incredibly proud and humbled to be your AOA president at this historic time for our profession."
Dr. Juhasz, an AOA board-certified internist, currently serves as president of Cleveland Clinic's South Pointe Hospital in Warrensville Heights, where he started as a dishwasher, working his way through numerous jobs until he was accepted in osteopathic medical school at the Kansas City College of Osteopathic Medicine in 1978.

"Brentwood Hospital (now South Pointe), played a pivotal role in why I became a DO," reflected Juhasz. " I saw how DOs treated their patients, and I saw how all of the staff treated each other as family,"

He credited the hospital for "teaching him about diversity" and "working together with a team of people of different colors, creeds and backgrounds, for one great purpose.... to take great care of patients."

Dr. Juhasz's speech was introduced by a seven-minute video, jointly produced by the Ohio Osteopathic Association and the Ohio University Heritage College of Osteopathic. The video provided a biographical sketch about why Dr. Juhasz became a DO and included testimonials from Ohio leaders who have been touched by his career. Click here to watch the seven-minute video: https://docs.google.com/file/d/0Byh_pK8dCmcgV0F4YXZZbnA1UzQ/edit

Dr. Juhasz built his speech around Simon Sinek's book Start With Why. He began the speech by asking his audience: "What is your 'Why' – in other words, Why do you exist, what gives you purpose and what makes you get up excited to get going every day."

He recited Andrew Taylor Still's words from the Charter of the American School of Osteopathy, and reminded attendees that the osteopathic profession's Why "has always been to improve care for the people whom we are privileged to serve."

He told the audience that the profession needs to work together to answer the following questions:

Who are we?
How do we teach?
What do we do? and
What difference do we make?

"When I met with osteopathic students last fall at OMED, they said they didn't see DOs practicing osteopathically, and they felt many of us had broken our osteopathic promise," Dr. Juhasz lamented.

Dr. Juhasz celebrates with the future of osteopathic medicine, our students, after the AOA President's Reception.

He said these students were inspired by our Why, and and he challenged the profession to keep our promise to our students and our patients. He called on the profession to show why we are unique by publishing scholarly osteopathic research in major journals at least every month.

The installation culminated nearly six months of debate and potential division over whether the AOA should enter into an agreement with the Accreditation Council for Graduate Medical Education (ACGME). The debate started in February, when the AOA Board of Trustees approved a Memorandum of Understanding with the ACGME, which caught some members of the profession off-guard.

"While there has been debate surrounding the agreement for the single GME accreditation system, a primary goal has been to preserve access for DOs in all residency and fellowship programs," he said. "By doing so, we have the responsibility to develop osteopathically-focused ACGME programs for DO residents in all of the specialties we train."

He said as the profession moves forward, we now will have osteopathic standards codified in the largest GME accreditation system in the world. He said the profession will be part of the governance of this new system at all levels and he called on the audience to move forward united.

In concluding his address, Dr. Juhasz asked for everyone's commitment "to take the vision of a pioneer doctor --and the work of so many who have nurtured and sustained the osteopathic profession he founded -- and share it far and wide."

A pioneer in the adoption of electronic health records (EHRs), Dr. Juhasz was actively involved with the implementation of EHRs at the Cleveland Clinic before many physicians used these systems. In 2005, he participated in a panel with President George W. Bush to discuss the benefits of electronic medical records.

Dr. Juhasz has also been instrumental in developing the Ohio University Heritage College of Osteopathic Medicine (OU-HCOM), Cleveland Clinic Extension Campus, which will welcome its inaugural class next year on the South Pointe Hospital campus. The extension campus is designed to improve access to primary care physicians in northeast Ohio. in Cleveland.

Dr. Juhasz has made a difference in his community serving as the co-chair of the physician section of the professional division of the cabinet for United Way of Lake County in Ohio in 2011 and is a Lake County Medical Reserve Corps volunteer. He also is a member of the Tri-City Chamber of Commerce and the St. Gabriel Parish community in Concord Township.

He has been named a "Top Doc" by Cleveland Magazine for several years, including in 2013, and appeared in the former Northern Ohio Live – Best Doctors in Cleveland listing. In addition, he was awarded the Phillips Medal of Public Service by OU-HCOM, received the Ohio Osteopathic Association's Trustee Award and was named an Honorary Alumnus of OU-HCOM in 2008.

Dr. Juhasz completed his internship and internal medicine residency training at what is now South Pointe Hospital. Dr. Juhasz is a fellow and diplomat of the American College of Osteopathic Internists, and a fellow of the American College of Physicians.




< Back | Printer Friendly Page