Membership Information
OOA Student membership is automatically granted on a DUES-FREE basis to each undergraduate student enrolled in the Ohio University Heritage College of Osteopathic Medicine (OU-HCOM). Undergraduate students in other AOA accredited colleges of osteopathic medicine and surgery may enroll for DUES-FREE membership by completing an on-line application. Join Today! Interested in getting connected with an AOA specialty society? Click here for more information.
Get Involved
Ohio Osteopathic Symposium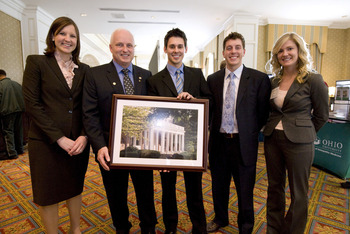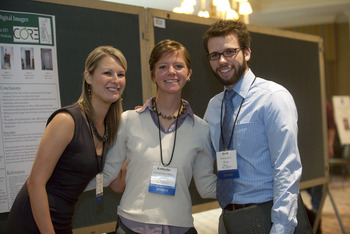 OU-HCOM students during the 2010 Poster Competition (left) and OU-HCOM students, during the 2011 Symposium (right), presenting a photo of Grosvenor Hall to State Representative Terry A. Johnson, DO, for his Statehouse office.
Each spring, DOs from across the state gather for the Ohio Osteopathic Symposium and Ohio Osteopathic Association House of Delegates. Students are invited to play an integral role in this respected educational event by entering a poster in the annual research poster contest. Students may also attend lectures and practice management workshops at no cost. In addition to providing quality continuing medical education for practicing physicians, the Symposium offers students networking opportunities, leadership development and a chance to engage in policy-making activities. For example, the OOA House of Delegates meets during the Symposium to elect officers, debate resolutions and address issues confronting the profession at the state and national level. OU-HCOM students are represented by the Student Council President (or the Council's designee), who serves as a voting member of the OOA's Board of Trustees, the OOA House of Delegates, and the American Osteopathic Association's annual meeting. To ensure student representation in state and national business meetings, the OOA and the Ohio ACOFP underwrite the cost of sending the OU-COM student delegate and/or alternate to state and national delegation meetings.
Read more information on this year's Annual Convention.
OU-HCOM Fall Student Study Break
The Ohio Osteopathic Association's Board of Trustees meets on campus every November and hosts a reception for the first and second year students and their guests. The "OU-HCOM Student Study Break" offers students an opportunity to talk with OOA Board members from all over the state and learn about CORE hospitals and OOA District Academy activities. Students pose with OOA Board members during the 2011 reception: (From top left clockwise ) Vice Speaker of the OOA House of Delegates Stuart B. Checky, DO, JD; Columbus Osteopathic Association Trustees Geraldine N. Nurse, DO; Akron-Canton Trustee Paul T. Scheatzle, DO, and Dayton Trustee Jennifer J. Hauler, DO; and AOA Trustee and OOA Past President Robert S. Juhasz, DO.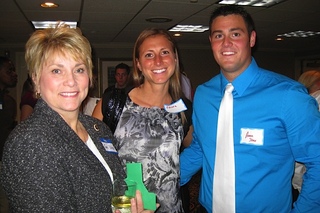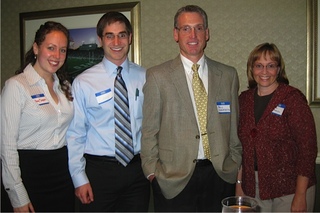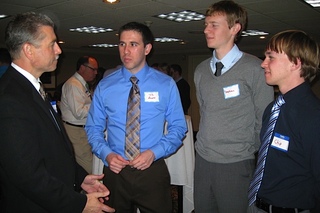 DO Day at the Statehouse/DO Day on the Hill
The Ohio Osteopathic Association encourages students to serve as advocates for patients and the osteopathic profession. The association helps to underwrite the cost of student participation at DO Day at the State House in Columbus and DO Day on the Hill in Washington, D.C. by providing charter bus transportiaton from Athens.
Scenes From DO Day 2012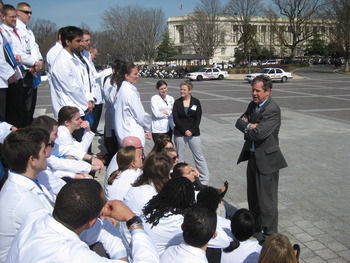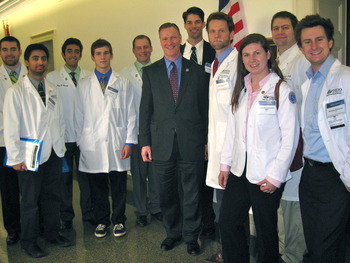 Click here for more information or to register.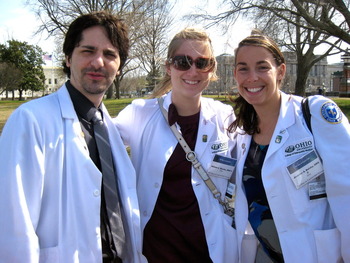 Mentoring Program
The OOA and AOA strongly believe that mentoring is an essential component of the learning experience for students, interns, residents and young practitioners, and it also enhances the understanding of the mentors in their exchanges with mentees in understanding the issues they face. Most importantly, mentoring is intended to provide participants in the program with the support and guidance that they seek to become physicians who are dedicated to the goals of the osteopathic medical profession. Since osteopathic medicine places its emphasis on treating patients, not symptoms, both the OOA and AOA believe the mentees in the program become physicians who are first and foremost dedicated to the importance of quality health care and the patient/physician relationship.
Ohio Student Leadership Opportunities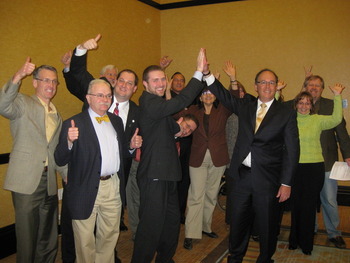 Ohio Osteopathic Association Board of Trustees
The OOA has a long history of supporting student involvement in the profession. In fact, the OOA was the first state osteopathic association in the nation to add a voting student representative to its Board of Trustees and to seat a student delegate in its House of Delegates. The President of OU-COM's Student Government serves as that voting member. If you have questions, concerns, or an interest in getting involved, please contact your student representative, Simon Fraser, SGA President and OOA Board member.
Ohio ACOFP Board of Governors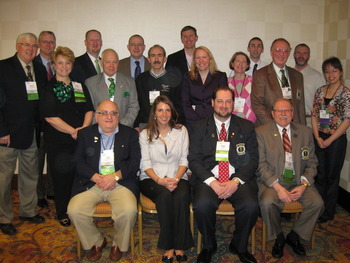 The President of the OU-COM Family Practice Student Association serves as a voting member of the Ohio ACOFP Board of Trustees. The State Society also provides an annual $1,500 grant to support the organization. If you have questions, concerns, or an interest in getting involved, please contact your student representative Kyle A. Hartman, Student Family Practice Association President and Ohio ACOFP Board Member.
Ohio Delegation to the 2011 ACOFP Congress of Delegates, March 16-17, 2011, in San Antonio, Texas.
State Science Day
Each year, the OOA presents six Osteopathic Medical Awards in two grade categories during the Ohio Academy of Science's State Science Day. The competition attracts more than 1,000 junior and senior high school students from across Ohio. OU-HCOM medical students are needed to judge the 50 or so projects submitted in the OOA's category, which covers medical, health, and behavioral research. For more information, contact Tara Jones.
Osteopathic Health Policy Internship
The American Osteopathic Association and American Association of Colleges of Osteopathic Medicine jointly sponsor the Osteopathic Health Policy Intern (OHPI) Program each year enabling two osteopathic medical students to spend a month in each of the government relations departments of the AOA and AACOM. The program, open to all current osteopathic medical students, provides participants an understanding and operational knowledge of how federal healthcare policy is formulated and how to effectively impact the process.
Click here for more information.
SOMA Unity Project
Each year, the Student Osteopathic Medical Association (SOMA) sponsors a community service project during the winter holidays. SOMA members from across the country participate, making it a great way to help others while making new friends and seeing new places.

In December 2007, more than 100 osteopathic medical students volunteered at New York City shelters, providing informative and interactive sessions on asthma, nutrition, fitness, stress, STDs, dental hygiene, and other topics. They also performed blood pressure screenings and cooked meals for the homeless. Residents of the shelters were eager to learn more about osteopathic principles and requested that SOMA students return for more sessions in the future. This project was made possible by support from AOA members, the SOMA Foundation, and by a grant from the Arnold P. Gold Foundation.

In 2006, students traveled to Kissimmee, Florida, and the Give Kids the World organization to engage in activities with children and families of those children impacted by deadly diseases. Some activities included train conducting, cookie monster cart, pizza delivery, gift giving, and much more.

The Unity project supported Hurricane Katrina relief efforts in 2005. Seventy-three participants from ten osteopathic medical schools went to Mississippi to lend a helping hand.
Click here for more information about SOMA.
Enter The AOA History Essay Competition
To encourage osteopathic medical students, interns and residents to study their profession's past struggles and achievements, the AOA Bureau of Osteopathic History and Identity is conducting its sixth annual history essay competition. As it has done since 2006, the bureau will bestow up to three awards: a $5,000 first prize, a $3,000 second prize and a $2,000 third prize. The bureau is asking contestants to focus their essays on the bureau's "Core Principles for Teaching the History of Osteopathic Medicine." For the 2010 essay competition, the bureau has chosen five different core principles than those used in 2009 and those used in 2008. Because the bureau has 20 core principles, it is rotating them so that the competition focuses on different ones each year. For more information click here.