ELCA Churchwide Assembly Happenings
08/15/2013
This article dives a bit more deeply into the election and shares comments from others in the ELCA. Give it a read.
http://www.christianpost.com/news/elca-assembly-elects-first-female-leader-of-denomination-102365/
Leave a Comment >
---
08/14/2013
PITTSBURGH (ELCA) - The Rev. Elizabeth A. Eaton, bishop of the Evangelical Lutheran Church in America (ELCA) Northeastern Ohio Synod, was elected Aug. 14 presiding bishop of the ELCA at the 2013 ELCA Churchwide Assembly. She was elected on the fifth ballot. There were 889 votes cast, and 445 votes were needed for an election. Eaton received 600 votes and the Rev. Mark S. Hanson, ELCA presiding bishop, received 287. Eaton is the ELCA's first woman presiding bishop-elect.
The churchwide assembly, the chief legislative authority of the ELCA, is meeting here Aug. 12-17 at the David L. Lawrence Convention Center. The theme for the triennial assembly is "Always being made new." This year marks the 25th anniversary of this church.
"We are a church that is overwhelmingly European in a culture that is increasingly pluralistic. We need to welcome the gifts of those who come from different places, that is a conversation we need to have as a church," Eaton told the assembly shortly after the election.
Prior to becoming synod bishop, Eaton served as pastor for ELCA congregations in Ohio. She earned a Master's of divinity degree from Harvard Divinity School in Cambridge, Mass., and a Bachelor's degree in music education from the College of Wooster in Wooster, Ohio.
Leave a Comment >
---
08/14/2013
From the ELCA Blog...
The Rev. Elizabeth Eaton, bishop of the ELCA Northeastern Ohio Synod, has been elected ELCA presiding bishop. 889 votes were cast; 445 were needed for election. Eaton received 600 and the Rev. Mark Hanson received 287.
Watch the announcement on the archives: http://new.livestream.com/elcacwa/events/2317290/archives
Leave a Comment >
---
08/14/2013
Follow along with the live streaming video #ELCACWA.
http://www.elca.org/Who-We-Are/Our-Three-Expressions/Churchwide-Organization/Office-of-the-Secretary/ELCA-Governance/Churchwide-Assembly/LiveVideo-Stream.aspx
Leave a Comment >
---
08/14/2013
From ELCA Blog
The Rev. Stephen Bouman and the Rev. Ruben Duran addressed the ELCA Churchwide Assembly a second time Aug. 13 — this time to talk about the ELCA's commitment to starting new congregations. Earlier they offered a report on renewing congregations.
Since the ELCA began 25 years ago, 435 new congregations have officially organized. Today there are 330 new starts currently under development, including 56 new starts in 2012.
They reported that in the past four years, ELCA members kept their commitment that at least half of this church's new starts is in a "situation of deep poverty" or part of "one of our ethnic strategies."
"Congregations throughout the ELCA are at the heart of our participation in the mission of God in the world," Duran told the assembly. "Today we say thanks for your leadership as lay and rostered leaders who are daring to be made new in your changing context."
Duran went on to share that "given the changing nature of contexts, our leaders are also being called to invest together with synod, churchwide and ecumenical partners to explore new forms of creating emerging communities of faith where no existing congregation is present.
"Life continues to change all around us and our places of worship," Duran said. "New start initiatives are like laboratories for new ministry experiments, which point to new ways of connecting with people, groups and changing communities."
According to Bouman, there are 20 news starts engaging mostly the emerging young adult generation "which we call the 'Organizing for Mission Cohort.'" There is also a group of new starts which are growing out of congregations who have left the ELCA, which are known as "New Wine Ministries," he said, adding that there is yet another group of new starts called "Jesus and Justice Ministries."
Leave a Comment >
---
08/14/2013
From ELCA Blog
Three of the seven nominees for ELCA presiding bishop have shared via written correspondence that they will not participate in this morning's question and answer session as part of the election process. They are the Rev. David Lose, a theologian and professor at Luther Seminary, St. Paul, Minn.; the Rev. Barbara Lundblad, professor at Union Theological Seminary, New York; and the Rev. Peter Marty, St. Paul Lutheran Church, Davenport, Iowa.
ELCA Presiding Bishop Mark Hanson, the Rev. Jessica Crist, the Rev. Ann Svennungsen and the Rev. Elizabeth Eaton will be participating in the question and answer. Crist is bishop of the ELCA Montana Synod and chair of the ELCA Conference of Bishops; Svennungsen is bishop of the ELCA Minneapolis Area Synod and Eaton is bishop of the ELCA Northeastern Ohio Synod.
Leave a Comment >
---
08/12/2013
Picture of Bishop-Elect Suzanne Dillahunt and the other eight female Bishops in the ELCA.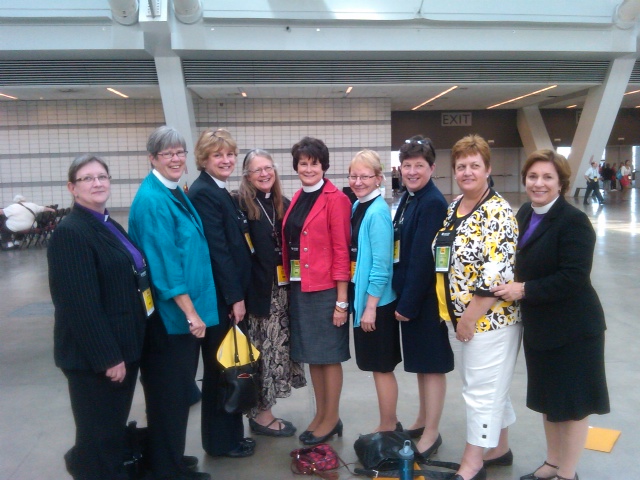 Leave a Comment >