ELCA Malaria Campaign Overview
It's still senseless. Almost five years after the Southern Ohio Synod became involved in the fight against malaria I think it is still senseless that over 500,000 people, mainly children and pregnant women can die from a mosquito bite. OK, not from a mosquito bite, but from the malaria virus a mosquito can carry from one infected human to another.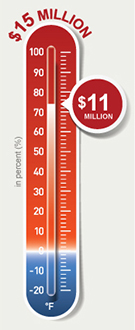 The ELCA Malaria Campaign is about ending these deaths. We are working with our companion synods in Africa, by sending money to increase awareness, to educate, to provide mosquito nets to prevent nighttime bites, and to build clinics and train health care workers to diagnose and treat those infected with malaria. Our goal is $15 Million dollars by 2015, and as of January1, 2014 we are two thirds of the way there! Yes, the ELCA Malaria Campaign has raised over $11 Million. Money that is making a difference.
The death count has gone down. Back in 2009, when the ELCA began our involvement in the fight against malaria deaths, the statistic was a child died every 30 seconds. Now, a child dies every 60 seconds, one a minute. Still way too many deaths, which are both preventable and treatable. Yet, we can celebrate the progress we've made.
Here in the Southern Ohio Synod, our goal is to raise $350,000 or approximately $5 for every member. Just $5 per member. These days that is the cost of a fancy latte or a McDonald meal. As of January 1, 2014 , the SOS had raised $153,278.38, or $2.19 per member. We can celebrate the progress we've made, as we recommit to this important ministry.
How can you and your congregation help?
Check out the new resources on this site, including posters, an info sheet and a FAQ page.
Go to http://www.elca.org/Resources/ELCA-Malaria-Campaign to learn more and to find more resources, including a 5 minute video and a new 2 minute video about the ELCA Malaria Campaign impact in Malawi .
Look for new resources coming in the next months including a VBS curriculum.
Plan to participate in World Malaria Day, April 27, the week after Easter. Look for a World Malaria Week Action Kit coming soon.
Send pictures and short articles about your malaria ministries that we can share, to inspire and motivate others.
Please hold this ministry in your prayers, along with the over 200 million people around the world who have been infected by malaria. Please feel free to contact me with you questions or comments at joeneherr@gmail.com or 937 564 5802.
In Christ's Peace,
Pastor Joene Herr
SOS Malaria Campaign Coordinator