Resources
10 Most Deadly Animals in the World Infograph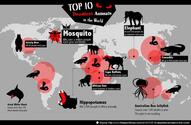 Malaria Weekend Worship Materials
ELCA Malaria Campaign Worship Resources
Please share with your congregations and community.
Instructions and fundraiser ideas from our friends in the United Methodist Church.
Well put together PowerPoint version of Jeopardy for kids activity. Courtesy of Edina Community Lutheran Church, ELCA.
Reproducible story from ELCA
Easy net corsage to give away or use as fundraiser. Makes a great Mother's Day corsage!
Sunday School or VBS Malaria Science Module
Mosquito and Malaria Lesson Plan
Multiple Choice Quiz on Malaria