Programs & Services
WF&FSA Members Link To Flower Gallery
WF&FSA Generic Web Based Flower Gallery
WF&FSA members no longer have to send their customers to a competitor's website or to multiple supplier websites to see photos of cutflower varieties.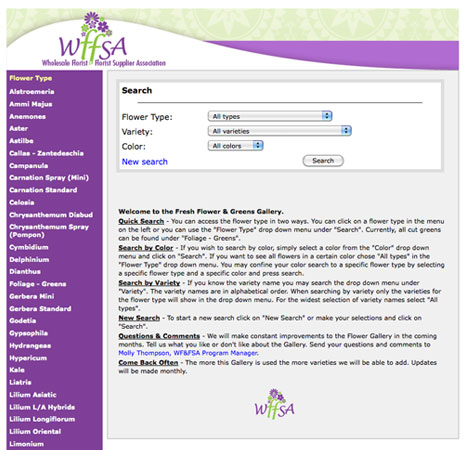 The WF&FSA Flower Gallery currently has over 2,500 varieties that can be searched by flower type, color, type/color, or variety name. The gallery will grow over time.
The Flower Gallery is updated periodically. You won't have to do anything. It will be automatic.
It's expensive and time consuming for individuals to create their own electronic flower gallery.
The Flower Gallery is $300 per year, plus a one-time fee of $100 for us to create your link. When you sign up,WF&FSA will give you a link that is unique to you, for you to place on your home page. When your customer clicks on the link, they will go to the Flower Gallery. Your customers can bookmark it for future reference. The transition is seamless.
Questions? Contact Amy Luckado, WF&FSA Program Manager, at aluckado@wffsa.org.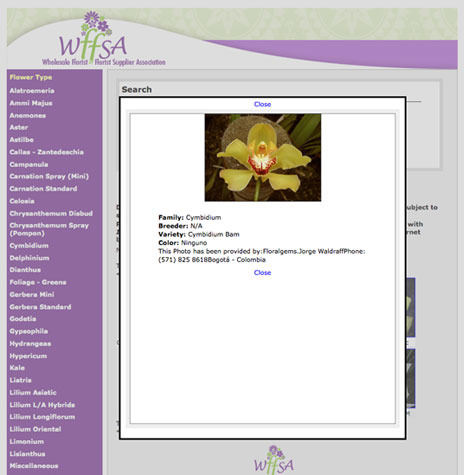 Programs & Services
Events
←
August 2016
→
S
M
T
W
T
F
S
1
2
3
4
5
6
7
8
9

The Four Pillars of the Sales Profession

Dayton, OH

August 9-11, 2016

10

The Four Pillars of the Sales Profession

Dayton, OH

August 9-11, 2016

11

The Four Pillars of the Sales Profession

Dayton, OH

August 9-11, 2016

12
13
14
15
16
17
18
19
20
21
22
23
24
25
26
27
28
29
30
31
View all events