Ohio News


Call to Action
National News
Funding Opportunities
Educational Opportunities
AOHC Board and Public Affairs Committee Minutes
Dr. Acton Attends AOHC Board Meeting
Last Friday, Dr. Amy Acton, Director of ODH attended the AOHC board meeting.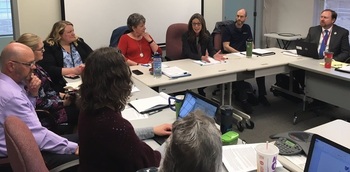 Ohio Ranks 47th in Federal Public-Health Dollars Per Person – JoAnne Viviano
Ed Note: I could not help but notice this article was surrounded by ads from Juul - just a small sign of our challenge to improve the public's health!
Reprinted from Columbus Dispatch 4/24/19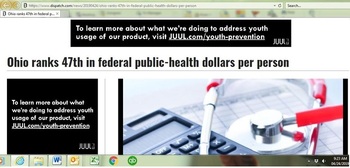 Ohio is 47th among states when it comes to public-health funding received from the federal Centers for Disease Control and Prevention, a new report found.
In the fiscal year ending Sept. 30, the state received about $207 million from the agency, or $17.68 per Ohioan, according to "The Impact of Chronic Underfunding on America's Public Health System" report released Wednesday by the Trust for America's Health.
That compares with $63.28 per person in Alaska, which ranks first among the 50 states, and $17.09 per person in New Jersey, which ranks last. The District of Columbia had the highest reimbursement reported at $171.52 per person, but that figure was not included among the state rankings. Puerto Rico and other U.S. territories also were not included.
Beth Bickford, executive director of the Association of Ohio Health Commissioners, said the report demonstrates a disconnect between the amount allocated to Ohio by the CDC and the state's population ranking, which is seventh, according to recent Census Bureau estimates.
She said it also helps explain challenges Ohio faces in reducing smoking and infant mortality, as well as other long-term indicators of a community's health.
"It's amazing to me the work that gets done with so little funding," Bickford said. "But we certainly could be doing better if we were able to get more federal funding."
The Ohio Department of Health actively pursues grants offered by the CDC to support state and local public-health initiatives, said J.C. Benton, department spokesman.
He said the governor has included state-level investments in public health in his two-year budget proposal.
"Gov. Mike DeWine is proposing significant investments to address public health issues including but not limited to the drug epidemic, infant mortality, child lead poisoning, and tobacco use and youth vaping," Benton said in an email.
DeWine has also proposed the creation of a Public Health Fund to pull together public and private agencies and funding to increase public-health awareness, education, programming and prevention strategies, Benton said.
"Gov. Mike DeWine is proposing significant investments to address public health issues including but not limited to the drug epidemic, infant mortality, child lead poisoning, and tobacco use and youth vaping," Benton said in an email.
DeWine has also proposed the creation of a Public Health Fund to pull together public and private agencies and funding to increase public-health awareness, education, programming and prevention strategies, Benton said.
Of the CDC money allocated to the state, nearly 60 percent — about $122 million — was targeted toward vaccines for children; the rest was spread among a dozen other initiatives, including public-health preparedness and response (about $18 million), injury prevention and control (about $12 million) and birth defects, developmental disabilities and disability and health (about $550,000.)
The report does not include CDC funding from the Prevention and Public Health Fund in its rankings because, researchers said, it is a first-of-its-kind, dedicated source of funding for public health and prevention created by the Affordable Care Act. Ohio received more than $16 million from the fund in fiscal year 2018.
Federal funding that helps support public health also comes from a number of other agencies in the U.S. Department of Health and Human Services, the report noted.
Benton said Ohio received funds from the Health Resources and Services Administration to address infant mortality and early childhood readiness, as well as funding from the U.S. Department of Housing and Urban Development for lead-poisoning prevention activities. He said the Ohio Department of Mental Health and Addiction Services receives significant funding from the Substance Abuse and Mental Health Services Administration.
Ohio's public-health funding did increase by 5.8 percent from fiscal year 2017 to fiscal year 2018, according to the report.
Yet Ohio also ranks poorly — 46th — in a separate analysis of public-health funding at the state level, based on 2017 numbers, said Amy Bush Stevens, vice president at the nonprofit Health Policy Institute of Ohio, which released that dashboard.
Stevens said it is important to remember, however, that much of Ohio's public-health funding is generated at the local level.
Local health departments get about 75 percent of funding from local communities, through a combination of licensing and other fees, property taxes and/or tax levies, Bickford said. The rest comes from the Ohio Department of Health's budget — the bulk of it originating from federal dollars and a tiny percentage from state funds.
The state gets about 75 percent of its funding from federal sources and the rest from state funds, she said.
Bickford said DeWine has been supportive of public health and suggested that state and local departments could work together to maximize efforts to obtain federal grants.
Tara Britton, director of public policy and advocacy at the Center for Community Solutions, a Cleveland-based research group, said many of DeWine's budget proposals appear to target certain issues "further upstream," by investing in prevention measures that may not show immediate payoff. Among them, she said, are raising the legal age to buy tobacco to 21 and providing mental-health assessment services in schools in response to the opioid crisis.
Deadline Extended: Apply for NACCHO's Awards
The application deadline is extended to May 5 for NACCHO's Local Health Department of the Year, Maurice "Mo" Mullet Lifetime of Service, and the National Advocate of the Year awards. Descriptions for each award, including eligibility and submission requirements, are available online.
HPIO Releases 2019 Ohio Medicaid Basics
The Health Policy Institute of Ohio has released Ohio Medicaid Basics 2019.
Medicaid pays for healthcare services for about three million Ohioans with low incomes, including more than 1.2 million children. Medicaid spending accounts for more than one-third of Ohio's budget and almost 17% of health expenditures nationally.
Released to coincide with the state biennial budget, Ohio Medicaid Basics is a foundational summary of the state-federal program. The 2019 edition provides an overview of Ohio Medicaid eligibility, enrollment and financing. The brief also includes an update on Medicaid expansion enrollment trends and spending.
The Health Policy Institute of Ohio has created Medicaid Basics every two years since 2005.
DeWine Details Plans to Raising Smoking Age
Gov. Mike DeWine and his top administrators on Wednesday called for Ohio to increase the purchase age for tobacco and vape products to 21 (Source: "Gov. DeWine issues warning on vaping, wants to raise smoking age," Dayton Daily News, April 17, 2019).
"This is a public health crisis," DeWine said. In his proposed two-year operating budget, DeWine included a provision to raise the tobacco purchase age, including vape materials, to 21. The current purchase age is 18, although more than 30 Ohio cities have passed local ordinances setting the age at 21.
Ohio ranks in the bottom quartile for adult smoking and children living in a household with a smoker, according to HPIO's recently released 2019 Health Value Dashboard. Analysis of the rankings found that tobacco use and secondhand smoke exposure contribute to many of Ohio's greatest health challenges, including infant mortality, cardiovascular disease, cancer and asthma.
State Exploring Licensing Hospitals
Ohio is the only state that doesn't license its hospitals, prompting the Ohio Nurses Association and some lawmakers to call for increased regulation (Source: "State examining ways to increase hospital regulation after patient overdose deaths at Columbus facility," Akron Beacon Journal, April 17, 2019).
Others say there's already enough state oversight and warn that adding more could take away from patient care.
Concerned that Ohio is the only state in the nation that does not license general hospitals, the governor and state director of public health are looking at ways to increase regulation at such facilities.
Their interest comes with the revelation that two central Ohio hospitals lacked policies to prevent staff members from bypassing alerts and approval systems to access and administer inappropriately high or fatal amounts of painkillers to patients.
"It makes absolutely no sense that Ohio is the only state that does not license hospitals," DeWine told The Dispatch last week. "We owe this to the citizens in the state of Ohio to be able to look at a situation and say 'Look, what have we learned from this tragedy?'"
Study: 1% Drop in Smoking among Medicaid Enrollees Could Save Ohio $60 Million a Year
Researchers estimate that cutting smoking in each state by 1% in a year would lower the cost to taxpayer-supported Medicaid by $2.6 billion the following year, including more than $60 million a year in Ohio, according to findings of a new study (Source: "Cutting smoking could save Medicaid $2.6B during a year, study says," United Press International, April 12, 2019).
According to the study, which was published in JAMA Network Open, a 1% drop would have median savings of $25 million for states each year, with California leading at more than $630 million.
The researchers looked at state-by-state rates of Medicaid recipients who also smoked. They figured that reducing smoking in that group by 1% would lower per-capita health care spending by 0.118%.
Researchers estimate that 15% of U.S. Medicaid costs are attributable to cigarette smoking. Fourty-six percent of working-age Ohio Medicaid enrollees were current smokers in 2017.
Free Webinar on Meningococcal Disease
AOHC and GSK will be providing a free webinar on Meningococcal Disease on Wednesday, June 19 at 11 am. This 30 minute webinar will include a disease overview, complications, and vaccine preventable serogroups and ACIP recommendations. To register, please email Penny at aohc_3@aohc.net.
OSU's 20th Annual Summer Program in Population Health
The Center for Public Health Practice in the Ohio State University's College of Public Health and the Ohio Colleges of Medicine Government Resource Center are pleased to announce stipend opportunities for the 2019 Summer Program in Population Health. Stipends are being provided to support LHD staff in attending the program on a first come/first served basis, and there is a limit of one stipend per LHD. Users must be a current employee of an Ohio local health department/district.
To register using this stipend opportunity, e-mail Colleen Fitzgibbons with the name of the course for which you would like to register for by June 1. More information about the courses is here.
PEP's FIRST Regional Educational Workshop
PEP welcomes you to the first Regional Educational Workshop on Thursday, June 13 from 9 to 1:30 pm at Mill Creek MetroParks in Struthers, Ohio. Topics include PEP Program Updates Including Services, Coverages & Resources, Risk Control, Claim Scenarios, Municipal Building Security Risk Management, Cyber Breach Coverage & Best Practices for Data Management, Role of Municipal Elected Officials/Managers & Protocol for Communication, and HR Issues & Social Media Issues. Register here.
PEP is providing CBIZ Property Appraisals to Members at no cost!
The Public Entity Pool of Ohio (PEP) is pleased to announce the continuation of the CBIZ Property Appraisal service to it's members. PEP has partnered with CBIZ Valuation Group, a professional appraisal firm, to perform certified appraisals of Member buildings and contents over a five year period. This appraisal service will include:
An on-site appraisal of all buildings valued at $100,000 or higher.
For Members who do not have any buildings valued at $100,000 or higher, the building with the greatest value will be appraised.
Each Member will receive a formal report of the appraisal work performed, which will include detailed descriptions and replacement cost insurable values for your records.
Having your largest buildings accurately valued is important for your Public Entity, especially in the light of fluctuating building and labor costs. PEP recognizes the significance of this issue and is excited to offer this service to PEP Members at no cost.
We are very pleased to offer this valuable service to our Members and we are here to assist you with any questions, comments or suggestions at PEPLossControl@yorkrisk.com or 800.748.0554.
NACCHO News from Washington
Update on Measles Outbreak
The Centers for Disease Control and Prevention (CDC) announced this week that 71 new cases of measles were reported, bringing the total this year to 695 across 22 states: the highest yearly total in 25 years. HHS Secretary Azar released a statement about the outbreak and the importance of vaccines, and just this morning the President reiterated the importance of getting vaccinated for measles.

NACCHO released a statement highlighting the effectiveness of vaccination campaigns touting the efforts of local health departments to prevent and stop measles, and has been quoted in numerous publications this week about responding to the outbreak, including U.S. News and World Report, Bloomberg Law, and Outbreak News Today.
HRSA Hosts Ending the HIV Epidemic Initiative Webinar for Ryan White HIV/AIDS Program Parts A and B Recipients: May 7
During this year's State of the Union Address, the Administration announced its "Ending the HIV Epidemic: A Plan for America," initiative. If funds are appropriated by Congress, this 10-year initiative would begin in fiscal year (FY) 2020 to achieve the important goal of reducing new HIV infections to less than 3,000 per year by 2030.

The Health Resources and Services Administration's HIV/AIDS Bureau will host a webinar for Ryan White HIV/AIDS Program (RWHAP) Parts A and B recipients on "Ending the HIV Epidemic: A Plan for America" on Tuesday, May 7, 2019, from 2:00-3:00 p.m. ET. This event will provide RWHAP Parts A and B recipients with additional information on HRSA HAB's vision for their roles in the "Ending the HIV Epidemic" initiative, should Congress appropriate funding, and offer an opportunity to provide input to HRSA HAB on implementation.

The Impact of Chronic Underfunding on America's Public Health System from TFAH
Persistent underfunding leaves the nation vulnerable and puts lives at risk.
The Impact of Chronic Underfunding on America's Public Health System: Trends, Risks, and Recommendations, 2019 examines federal, state, and local public health funding, and recommends needed investments and policy actions to prioritize prevention, effectively address 21st century threats, and ultimately achieve optimal health for all Americans.
Key Findings:
Over the past decade, the Centers for Disease Control and Prevention's program funding—more than half of which goes to states, localities, and other nonfederal partners—decreased by 10 percent, after adjusting for inflation. At the same time, substance misuse has skyrocketed, the incidence of obesity and related health problems are up sharply, and the threat of weather-related emergencies is on the rise.
Federal funding cuts negatively impact state health departments as these funds are a primary source of state public health money. Similarly, these spending cuts trickle down and have serious consequences for local health departments and the communities they serve, given that such allocations also constitute a substantial portion of local health departments' budgets.
Multiple years of funding cuts contributed to more than 55,000 lost jobs at local health departments from 2008-17. These cuts undermine efforts to hire, train, and retain a strong public health workforce, which in turn limits governments' ability to effectively protect and promote the health of their communities.
Topline Recommendations:
Increase federal investments in public health.
Provide sufficient full-year funding for federal agencies to avoid interruptions in funding for critical health security programs.
Increase state and local investment in public health, prioritizing prevention and the social determinants of health.
Work across sectors to improve the effectiveness and efficiency of public health investments.
Ease coordination of funding from multiple streams.
Retail Program Standards Blog Series: Standard 7
The next post in NACCHO's blog series showcasing the progress that communities across the country have made in retail food protection features Lake County General Health District in Mentor, Ohio.
Healthy and Safe Swimming Week 2019 Toolkit
The Healthy and Safe Swimming Week Partner Toolkit 2019 is a guide to help public health professionals engage their target audiences and increase awareness of this annual observance, coming up on May 20–26.
Status Report for EPA Actions in Support of the December 2018 Federal Action Plan to Reduce Childhood Lead Exposures and Associated Health Impacts
The U.S. Environmental Protection Agency (EPA) released a status report describing EPA activities that are being conducted in support of the Lead Action Plan.
2019 State of the ImmUnion Report
Vaccinate Your Family: The Next Generation of Every Child By Two has released their third annual State of the ImmUnion (SOTI) report. The 2019 report examines how strong our defenses truly are against vaccine-preventable diseases and what we can do, as public health advocates and legislators, to make our country stronger and more resilient in the face of disease outbreaks and other emerging health threats.
Funding Opportunities
Ohio Educational Opportunities
Training offered through AOHC
Other Ohio Educational Opportunities
For more information about any of the following opportunities, click here.
Healthcare Collaborative of Greater Columbus May Monthly Meeting: A Conversation on Maternal Depression, May 9
OCAPP Compliance Assistance Services, May 16, 2019, webinar
Ohio Cardiovascular Health Collaborative Second Annual Statewide Conference, Friday, May 17 2019
Grant Writing Workshop with Toledo Police Department in Walbridge, May 22-23
OPCPCC's Self Care in the Helping Professions: Trauma-Informed Care for Front-line Caregivers, Tuesday, May 28, 12:15–1:00 pm webinar
First Regional Educational Workshop, June 13, 9 am to 1:30 pm, Mill Creek MetroParks, 17 Lowellville Road, Struthers, OH. Register here.
Ohio State's 20th Annual Summer Program in Population Health, June 17-21, Columbus. Registration is OPEN
The Ohio Materials Marketplace (OMM), June 19, 2019, webinar,
Program Highlights and Tips for Nominating Your 2020 WPCLF Projects, July 24, 10 am
In-Person ALC at the AOHC Fall Conference: Monday, September 16, 10:00 am - 3:00 pm. Save the Date!
Ohio Patient-Centered Primary Care Collaborative (OPCPCC) conference, November 8, 2019, Pinnacle Golf Club in Grove City, OH. Save the Date
Leadership Essentials for Health District Success (LEHDS)
National Educational Opportunities
For more information about any of the following education, click here.
Advocating for Health Equity 64th Annual Meeting & Exhibition, May 18-22, 2019, Washington, DC
2019 Private Well Conference, May 21–23, Harrisburg, PA
National Conference on Social Work and HIV/AIDS, May 22-25; Washington, DC
Emerging Advances in Artificial Intelligence for Environmental Health, June 6–7, Washington, DC & Online
Public Health Improvement Training, Jun. 12–13; New Orleans, LA
International Making Cities Livable Conference, June 17–21, Portland, OR
ASTHO Vector-Borne Disease GIS Training Workshop, June 18–19, Providence, RI
AFDO Annual Educational Conference, June 22–26, Atlanta, GA
2019 NACCHO Annual Conference, July 9–11, Orlando
RITN's "Crisis in Context: Minding the Gaps in Medical Preparedness for a Rad/Nuke Incident" workshop, July 30-31, Arlington, VA Registration is open
2019 National Conference on Health Communication, Marketing, and Media, August 13 – 15, 2019, Omni Atlanta Hotel at CNN Center, Atlanta, Georgia
Webinars
For more information about any of the following webinars, click here.
America Walks Webinar: Equitable Development: Back to Basics, April 29, 2:00–3:00pm
Exploring National and Local Approaches to Perinatal Hepatitis B Prevention, May 1, 2:00-3:00 pm
Preconception and Multigenerational Health: Links between Cardiovascular and Reproductive Health, May 2, 11:30am–1:00pm
Creating Active Routes to Everyday Destinations, May 2, 1:00–2:30pm
Coalition on Human Needs: Why We Should Oppose Repealing Payday and Other Loan Protections, May 2, 2:00pm
Scaling Up PrEP Care to End the HIV Epidemic, May 6; 12:00-1:30pm
Every Student Succeeds Act (ESSA) Training, May 7, 2019 from 2:00 p.m.
CDC's Travel-associated Rickettsioses Guidance: Pre-travel Counseling, Diagnosis, Treatment, and Reporting, May 7, 2-3 pm
NACCHO, Monthly Health in All Policies Technical Assistance Webinar: Local Approaches to HiAP Capacity Building, May 8, 2:00pm
STD Federal Action Plan: Listening Session and RFI, Session 2: Thursday, May 9, 3:30-5:00pm – REGISTER, (same as session 1)
Policy Surveillance for Policymaking, May 14, 1:00-2:30 pm
Social Determinants on the Local Level: Housing and Health, May 14, 2:00–3:00pm
Hidden Consequences: The Opioid Epidemic and Rising Hepatitis B Rates, May 22, 2:00-3:00 pm
A Strategic Response to Hepatitis A Outbreak: From the Big Picture to the Nitty Gritty, May 22; 2:00-3:00pm
Knitting a Lactation Safety Net: Community-Clinical Linkages: Why These Connections Matter for Breastfeeding, May 22, 2:00–3:30pm