Details

August 28, 2019
9:00AM-12:30PM
The Power of Good Planning
APA CLE Professional Development Workshop
Watershed Stewardship Center | Parma
Whether planning for a single site, a small city or a large region, the principles of good planning can be applied with successful results at all scales.
Wednesday, August 28 | 9:00AM to 12:30PM
Watershed Stewardship Center
2277 West Ridgewood Drive, Parma, OH
Register here by Sunday, August 25
Breakfast @ 9:00AM; presentations begin @ 9:30AM.
APA members: free | Non-members: $25
3.0 AICP CM credits are approved for this event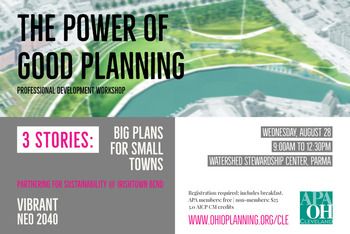 Three stories will be presented, with time for coffee and questions!
Vibrant NEO 2040 | Speakers share a vision and framework for regional planning in a 12-county area, recognizing the unique issues and needs of communities and businesses in Northeast Ohio.
Vibrant NEO 2040 is the result of comprehensive planning efforts led by NEOSCC (Northeast Ohio Sustainable Communities Consortium). This group represented various communities and agencies within 12 counties in Northeast Ohio. Their mission was to create a framework for development to guide the region in achieving more sustainable development patterns into the future. The original effort and framework was adopted in 2016 and received a national APA award. Since completion of the study, NEOSCC has evolved into NEO 2040, continuing its mission to promote smart, sustainable growth throughout the region. As part of its advocacy mission, the group has created an initiative to inform, update and call others to action. Speakers will outline the goals and principles produced through the framework. Those include strengthening established communities, increasing transportation choices, preserving and protecting natural resources and promoting collaboration and efficiency. Speakers will also provide updates on the more current initiatives of Vibrant NEO 2040. As Northeast Ohio continues to struggle with spatial mismatch of jobs and people needing employment, loss of population in urban areas, new development in outlying areas and environmental sustainability, Vibrant NEO 2040 remains relevant and a key to resolving those issues.
Maribeth Feke, AICP, GCRTA
Lawrence Hall, NOACA

Paul Volpe, City Architecture
Big Plans for Small Towns | Is planning just for large cities? Learn how a little outside-the-box thinking can set up a community for success, regardless of size or population.

When one thinks of transportation planning, the first images that come to mind are dense urban areas and highway systems. But don't communities of all sizes need transportation? What about master planning – is that just for large cities? Any community can plan for their future, and they should! Speakers explore how various planning strategies were applied to smaller, less traditional locations, including those with populations between 4,000-19,000 residents. Speakers will showcase a series of planning efforts recently completed in smaller communities including the Akron Metropolitan Area Transportation Study's (AMATS) Connecting Communities program, Northeast Ohio Areawide Coordinating Agency's (NOACA) Transportation for Livable Communities Initiative, Community Development Block Grants, community engagement and more. See how communities can come together with various funding sources and partners to develop a strategic plan for the future. Learn how a little outside-the-box thinking can set up a community for success, regardless of size or population. Planners from different firm backgrounds--urban and rural--team up to present why planning always makes sense, no matter the size or make up of your community.
Krysta Pesarchick, AICP, City Architecture
Lauren Falcone, AICP, Poggemeyer Design Group
Partnering for Sustainability at Irishtown Bend | Hear about the results of a comprehensive planning process to re-imagine Irishtown Bend, an underdeveloped hillside along the west bank of the Cuyahoga River.
Irishtown Bend is a vast, underdeveloped hillside along the west bank of the Cuyahoga River. Dredging and widening of the Cuyahoga River necessitated the clearing of the Irishtown Bend settlement in the mid-20th century, and the site has remained vacant due to structural instability. This hillside is at risk for failure which would compromise the Cuyahoga River shipping channel. Speakers will share the result of a comprehensive planning process that involved a re-imagined public space through shared interest in this important opportunity on Cleveland's waterfront, connecting Ohio City, public housing residents and the entire near west side to the Cuyahoga River. The site includes a world-class public park, enhanced urban farm, neighborhood connections, sustainable storm water infrastructure including "green bulkhead" fish habitats, new internal trails and multiple connections to Cleveland's growing trail network. To date, the site has evolved in predictable ways through immigration, the industrial revolution and industrial decline. The plan developed through this study is encouraging this site to evolve in unpredictable and positive ways, improving the health, commerce, connectivity and ecology of Cleveland.
Doug Blank, Michael Baker International
Sean McDermott, Cleveland Metroparks
Tiffany Graham, LAND studio
2019-08-28 09:00:00
2019-08-28 12:30:00
America/Detroit
The Power of Good Planning
Whether planning for a single site, a small city or a large region, the principles of good planning can be applied with successful results at all scales. Wednesday, August 28 | 9:00AM to 12:30PMWatershed Stewardship Center2277 West Ridgewood Drive, Parma, OH Register here by Sunday, August 25 Breakfast @ 9:00AM; presentations begin @ 9:30AM. APA members: free | Non-members: $25 3.0 AICP CM credits are approved for this event Three stories will be presented, with time for coffee and questions! Vibrant NEO 2040 | Speakers share a vision and framework for regional planning in a 12-county area, recognizing the unique issues and needs of communities and businesses in Northeast Ohio. Vibrant NEO 2040 is the result of comprehensive planning efforts led by NEOSCC (Northeast Ohio Sustainable Communities Consortium). This group represented various communities and agencies within 12 counties in Northeast Ohio. Their mission was to create a framework for development to guide the region in achieving more sustainable development patterns into the future. The original effort and framework was adopted in 2016 and received a national APA award. Since completion of the study, NEOSCC has evolved into NEO 2040, continuing its mission to promote smart, sustainable growth throughout the region. As part of its advocacy mission, the group has created an initiative to inform, update and call others to action. Speakers will outline the goals and principles produced through the framework. Those include strengthening established communities, increasing transportation choices, preserving and protecting natural resources and promoting collaboration and efficiency. Speakers will also provide updates on the more current initiatives of Vibrant NEO 2040. As Northeast Ohio continues to struggle with spatial mismatch of jobs and people needing employment, loss of population in urban areas, new development in outlying areas and environmental sustainability, Vibrant NEO 2040 remains relevant and a key to resolving those issues. Maribeth Feke, AICP, GCRTA Lawrence Hall, NOACA Paul Volpe, City Architecture Big Plans for Small Towns | Is planning just for large cities? Learn how a little outside-the-box thinking can set up a community for success, regardless of size or population. When one thinks of transportation planning, the first images that come to mind are dense urban areas and highway systems. But don't communities of all sizes need transportation? What about master planning – is that just for large cities? Any community can plan for their future, and they should! Speakers explore how various planning strategies were applied to smaller, less traditional locations, including those with populations between 4,000-19,000 residents. Speakers will showcase a series of planning efforts recently completed in smaller communities including the Akron Metropolitan Area Transportation Study's (AMATS) Connecting Communities program, Northeast Ohio Areawide Coordinating Agency's (NOACA) Transportation for Livable Communities Initiative, Community Development Block Grants, community engagement and more. See how communities can come together with various funding sources and partners to develop a strategic plan for the future. Learn how a little outside-the-box thinking can set up a community for success, regardless of size or population. Planners from different firm backgrounds--urban and rural--team up to present why planning always makes sense, no matter the size or make up of your community. Krysta Pesarchick, AICP, City Architecture Lauren Falcone, AICP, Poggemeyer Design Group Partnering for Sustainability at Irishtown Bend | Hear about the results of a comprehensive planning process to re-imagine Irishtown Bend, an underdeveloped hillside along the west bank of the Cuyahoga River. Irishtown Bend is a vast, underdeveloped hillside along the west bank of the Cuyahoga River. Dredging and widening of the Cuyahoga River necessitated the clearing of the Irishtown Bend settlement in the mid-20th century, and the site has remained vacant due to structural instability. This hillside is at risk for failure which would compromise the Cuyahoga River shipping channel. Speakers will share the result of a comprehensive planning process that involved a re-imagined public space through shared interest in this important opportunity on Cleveland's waterfront, connecting Ohio City, public housing residents and the entire near west side to the Cuyahoga River. The site includes a world-class public park, enhanced urban farm, neighborhood connections, sustainable storm water infrastructure including "green bulkhead" fish habitats, new internal trails and multiple connections to Cleveland's growing trail network. To date, the site has evolved in predictable ways through immigration, the industrial revolution and industrial decline. The plan developed through this study is encouraging this site to evolve in unpredictable and positive ways, improving the health, commerce, connectivity and ecology of Cleveland. Doug Blank, Michael Baker International Sean McDermott, Cleveland Metroparks Tiffany Graham, LAND studio  
Watershed Stewardship Center | Parma
---