Complete Story

07/09/2019
We Plan CLE 2019
July 22-25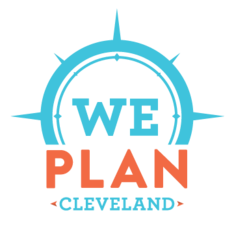 Everyone contributes to places that matter. We Plan CLE is an annual event, open to all, designed to foster discussion and innovation.
A week-long series of events focuses on a different theme each year to encourage collaboration, discussion and great ideas. We invite you to join the conversation!
Enter your email to receive event invitations and occasional updates. Follow along on social media: facebook/groups/APACleveland and twitter @APA_CLE, #WePlanCLE.
Previous WePlanCLE Series:
2018: EQUITY

2017: ACT!
2016: REPURPOSE
---
We Plan CLE 2019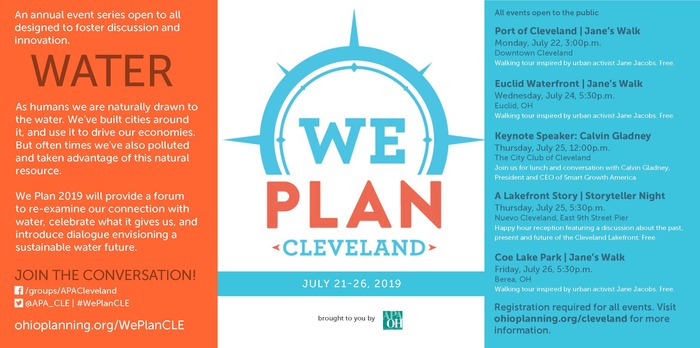 Jane's Walk | Port of Cleveland, Cleveland
Monday, July 22 @ 3:00 PM
Join us for a Jane's Walk tour of the Port of Cleveland. The Port of Cleveland is one of the largest ports on the Great Lakes providing over 20,000 jobs, $3 Billion in economic activity while receiving 13M tons of cargo and 900 vessels per year. Registration is full for this event.
More Info
Jane's Walk | Euclid Waterfront, Euclid
Wednesday, July 24 @ 5:30 PM
Join us for a Jane's Walk construction tour with the City of Euclid administration. Observe the process of constructing a three-quarter mile multi-modal trail and beach and visualize the final product using a Virtual Reality headset and program specially designed for this project.
More Info
Keynote Speaker | Calvin Gladney, Cleveland
Thursday, July 25 @ 12:00 PM

Join us for lunch and conversation with Calvin Gladney, President and CEO of Smart Growth America at the City Club of Cleveland.
More Info
Storyteller Night | A Lakefront Story, Cleveland
Thursday, July 25 @ 5:30 PM
Join us for a happy hour reception featuring a discussion about the past, present and future of the Cleveland Lakefront.
More Info
Jane's Walk | Coe Lake Park, Berea
Friday, July 26 @ 5:30 PM
Join us for a Jane's Walk tour around the Coe Lake Park starting at the Historical Society for background information on the City's past.
More Info

Questions about We Plan CLE should be directed to Arthur Schmidt at Arthur.Schmidt@ohm-advisors.com or 216-865-1342.
---