112th Annual ECA Convention
Resilience
Virtual Convention
Wednesday, March 24 – Sunday, March 28, 2021
---
Begin the conversation about your research, trip, or experience on
ECA's Facebook and Twitter!
112th Annual ECA Convention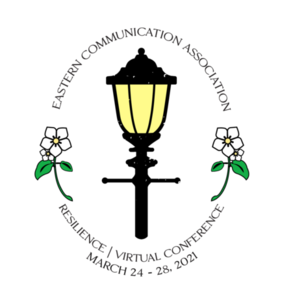 2021 Eastern Communication Association Conference
A Virtual Event
Wednesday, March 24 - Sunday, March 28, 2021
Resilience
Our vision for the 2021 ECA conference is to engage "Resilience" thoughtfully as a persistent response to overcoming obstacles, thriving despite challenges, and adapting to an ever-changing global landscape. As we are embedded in a historical moment marked by "wicked problems," we look forward to the opportunity to explore resilience for global communities and share possibilities for teaching, research, civic engagement, as well as in our professional and personal endeavors. We recognize that inherent within resilience are conflict and struggle. However, from this discomfort, resilience brings a power and a responsibility to share with the larger global community.
Why you should attend ECA's first virtual convention:
Log-in for a One-Stop Experience
ECA's annual conference will take place on a virtual event platform, Pathable, which will offer a seamless experience for over 180 conference activities. Should a less than seamless incident occur, dedicated Pathable tech support and a cadre of highly skilled ECA tech volunteers will be ready for action.
Connect with ECA Colleagues
Join conversations and schedule meetings to discuss research, teaching, or just to catch up with one another. Nothing can replace those "surprise and delight" moments from in-person conferences, but we'll sure try.
Join your Interest Groups and Explore Others
Meetings are scheduled for 8:00 AM on Friday and Saturday. Set your alarm and bring your coffee. Some groups are also scheduled to meet on Friday at 4:30 PM.
Celebrate our Students, Programs, and Colleagues
James C. McCroskey and Virginia P. Richmond Undergraduate Scholars Conference Awards Ceremony and Keynote
Graduate Poster Session
Graduate Programs Showcase
President's Reception & Awards Ceremony
Participate in Featured Events
Basic Course Conference Keynote Speech and Workshop presented by Pat Gehrke from the University of South Carolina, entitled: Empowering Diverse Learners with Strengths-Based Pedagogy.
Research workshops highlighting quantitative, qualitative, and interpretive inquiry methods.
Spotlight panels on "Resilient Teaching," "Resilient Research," and "Resilient Academic Leadership and Service."
Evening Fireside chats
Engage with our Keynote Speaker
Dr. Patrice M. Buzzanell, Professor & Chair, will deliver the Keynote Address on Saturday, March 27th from 12:30PM-1:30PM
We look forward to welcoming you to our virtual conference and providing a forum for sharing your scholarly contributions. Please reach out to Primary Convention Planner, Amanda McKendree, at amckendree@nd.edu with any questions.