About the Friends of Hocking Hills State Park
The Friends of the Hocking Hills State Park is a non-profit (501c3) membership organization for people who love the Hocking Hills and take special interest in improving Park features and preserving it for the enjoyment of future generations. Through fundraising and helping hands, the Friends work directly with the State Park staff to oversee a wide range of projects at the Park. Our Friends group is a member of the Friends for the Preservation of Ohio State Parks.
Our Mission
The Friends Mission Statement is "To foster a partnership between outdoor enthusiasts and Hocking Hills State Park that ensures a better place for nature education, while setting high conservation standards and raising a strong sense of responsibility for future generations."
Our Goals
The goals of the Friends group are set high. The Friends have funded rope rescue safety equipment, playground equipment in the campground, and a new archery range. These improvements have been made without state funds or fees to users, through the generosity of people just like you who love the area and have donated to the Friends of the Hocking Hills.
Since 2003, the Friends of Hocking Hills State Park has provided over $175,100 in direct financial support to Hocking Hills State Park. This figure includes the tree planting project at the new Hocking Hills Visitor Center, which cost $1,500.00 itself.
Constructed the John Glenn Astronomy Park (JGAP), over a two year period between 2017 and 2018 and raised funds totaling $937,260. With ongoing funding of the Educational Endowment Fund for JGAP with a goal of $1M.
Annual funding for Park Safety Rope & Rescue Equipment
Donated Playground Equipment in Old Man's Cave Campground
Donated 2 Gators (All Terrain Vehicle)
Constructed a New Archery Range
Constructed a Wildlife Viewing Blind at Rose Lake
Constructed A Butterfly Habitat and Gardens at Old Man's Cave
Constructed Raptor cages
Supports Naturalist Programs
Supports Live Animal Care
Funded a Study at a cost of $125,000, and Sponsored the Relocation of State Route 664 at Old Man's Cave. This project was completed in 2011.
Funds the Printing of Campground Maps
Funded Statewide Volunteers in Parks Annual Camp Out
Funded Updates to the Old Man's Cave Visitor Center
Old Mans Cave Tree Planting
Fire Relief Fund for Employees of the Hocking Hills Dining Lodge in which FHHSP provided $31,000 in direct financial support and $10,000 in non-monetary donations (toys, gift cards, clothes, etc) to the employees of Hocking Hills State Park Dining Lodge, and their families, when the lodge was tragically destroyed by fire in December 2016.
Funds Luncheon for volunteers of the Annual Winter Hike
Your donation makes a difference!
2019 Board of Directors

---

Julieann Burroughs, President

Eric Hoffman, Vice President

Jerry Jividen, Secretary

Greg Kidwell, Treasurer

Adele Browne

Ken Browne

Clyde Gosnell

Greg Hanlin

Barb Jividen

Steve Rine

Omie Warner

Paul Westenheffer

Liaisons

---

Robin Donnelly, Park Manager
Hocking Hills State Park

Brent Bendele, Asst. Park Manager
Hocking Hills State park

Karen Raymore, Executive Director
Hocking Hills Tourism Association
---
Donate to FFHSP
---
---
---
---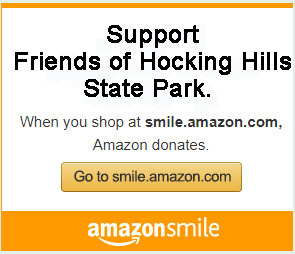 ---
To use your Kroger card to support the Friends, please click the link below:
---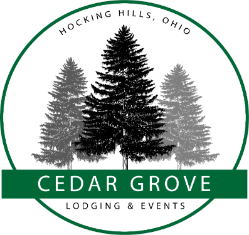 ---