COVID-19 RESOURCES
(Updated 08/17/2020) The Small Business Administration has issued an FAQ on loan forgiveness under the Paycheck Protection Program (PPP). Any members who have received PPP loans must be very careful that they follow all conditions and requirements of these loans in order to be eligible for forgiveness. View the updated FAQ.
---
(Updated 07/29/2020) On June 3, 2020, the Senate passed the Paycheck Protection Program Flexibility Act in hopes of helping small businesses more thoroughly take advantage of the provisions of the PPP. Here are the key takeaways.
---
(Updated 07/15/2020) The IRS has released Notice 2020-54, which requires employers to report the amount of qualified sick and family leave wages paid to employees under the Family First Coronavirus Response Act (FFCRA). FFCRA requires employers with fewer than 500 employees to provide paid leave due to certain COVID-19-related circumstances in 2020.
---
(Updated 07/09/2020) Please find this link to the most recent Ohio Department of Health Face Covering Order for those Red and Purple counties, effective June 8th. Feel free to contact OHBA with any questions.
---
(Updated 06/11/2020) Montgomery County CARES Act Grant Program
In June, Montgomery County will launch a new financial assistance program to help small businesses that experienced losses due to the Coronavirus pandemic.

The Montgomery County Office of CARES Act has allocated $40 million in federal stimulus funds to create grants that will help small businesses affected by the pandemic. Some basic information about the small business program:
Grants will be up to $10,000 per business
Must be locally owned
Must be located in Montgomery County
Must have fewer than 30 employees
Must have gross annual receipts of less than $1 million
Must not have already received federal assistance (SBA Economic Injury Disaster Loan, Paycheck Protection Program, or other programs funded by the federal CARES Act)
Please note that you will need to upload supporting documents in the online application. Click here for application instructions and a list of the documents you'll need to submit.
---
(Updated 06/05/2020) Congress recently passed the Paycheck Protection Program Flexibility Act, which makes significant changes to the Paycheck Protection Program (PPP), including:
Reducing the portion of PPP funds that must be spent on payroll costs from 75% to 60%.
Extending the "covered period" for spending PPP funds from 8 weeks to the earlier of 24 weeks from loan disbursement or December 31, 2020. Although borrowers who received a PPP loan prior to the enactment of the Paycheck Protection Program Flexibility Act can choose to continue using the 8-week period.
Extending the deadline to apply for PPP loans to December 31, 2020.
Extending the deferral period of PPP loans from 6 months to 1 year.
Extending the deadline to rehire employees and restore wages to pre-COVID levels to December 31, 2020, in order to have full forgiveness of PPP loans.
Providing an exception to loan forgiveness reduction if the number of full-time equivalent employees is reduced. This exception applies to borrowers only if they, in good faith, document an inability to rehire individuals who were employees on February 15, 2020, and an inability to hire similarly qualified employees for unfilled positions on or before December 31, 2020. Borrowers may also qualify for this exception by documenting an inability to return to the same level of business activity as they were operating at before February 15, 2020, due to compliance with health and safety requirements.
Extending the maturity of PPP loans that are not forgiven to 5 years.
---
(Updated 05/11/2020) Please review the following guidelines from the American Industrial Hygiene Association as you continue to implement safety protocols; specifically, reopening guidance for general office settings.
---
(Updated 05/07/2020) We have received BWC Payroll Reporting Guidelines from our partners at CareWorks Comp. If you have any questions, please contact Julia Bowling at (513) 218-4062 or by email: julia.bowling@careworkscomp.com
An informative presentation by our workers' compensation partner CareWorks on Ohio workers' compensation & unemployment compensation changes/issues related to COVID-19:
WATCH VIDEO
---
(Updated 05/05/2020) Please reference this Excel Spreadsheet for assistance in calculating your PPP and the forgivable portions.
Additional PPP links:
Paycheck Protection Program FAQs
IRS explains how to treat forgiven PPP dollars
Joint Statement by Secretary Steven T. Mnuchin and Administrator Jovita Carranza on the Review Procedure for Paycheck Protection Program Loans
---
(Updated 04/28/2020) The Ohio Home Builders Association (OHBA) has been working tirelessly to keep the membership informed and educated about the latest developments across the state. Here is the latest COVID-19 Updates and Resources from our State Association.
Contained in this document include Ohio's plan to responsibly restart Ohio's economy during the ongoing COVID-19 pandemic.The guiding principles of the Responsible RestartOhio plan are protecting the health of employees, customers, and their families, supporting community efforts to control the spread of COVID-19, and responsibly getting Ohio back to work.
---
(Updated 04/23/2020) On today's "Tools for Your Business" Webinar, Kim Woodbury from the Miami Valley Small Business Development Center discussed information on the PPP, EIDL, and provided information for how bank draws are calculated on applications. Please use this link to find more helpful tools from the MVSBDC.
You can access the slide deck from today's presentation here and their recommended guidelines pertaining to the PPP for SelfEmployed/Sole Proprietors.
---
(Updated 04/21/2020) Last week The White Houserecommended guidelines on what a phased-in economy re-opening would look like. Here is the information that will be helpful for business leaders as we begin planning this for our organizations, families, etc.
For continued COVID-19 resources, make sure to visit check our website and Constant Contact emails.
---
(Updated 04/16/2020) This morning the HBA of Dayton, as part of our ongoing Tools for Your Business Webinar series, had Alex Kohls, Senior Arena Manager for the Small Business Administration, provided valuable information for our members regarding programs available for businesses. You can see the entire slide deck HERE.
Additionally, there are other resources for our members:
https://home.treasury.gov/policy-issues/cares/assistance-for-small-businesses
https://www.resources4business.info/businessfirst/recession.html
---
(Updated 04/13/2020) Here is a list of Banks Providing Loans and PPP & EIDL Comparisons.
Additionally, NAHB is urging members, and all residential construction companies, to halt work for at least 10 minutes on Thursday, April 16, for a COVID-19 Job Site Safety Stand Down to educate workers on what they should do to keep themselves safe from coronavirus and to help "flatten the curve" for everyone.
As part of the safety stand down, members are being asked to pause all work for at least 10 minutes to relay coronavirus safety precautions, such as maintaining a distance of no less than six feet with others at all times, cleaning and sanitizing frequently used tools, equipment, and frequently touched surfaces on a regular basis and ensuring the proper sanitation of common surfaces and equipment. The safety information can also be distributed digitally (through email and/or text).
---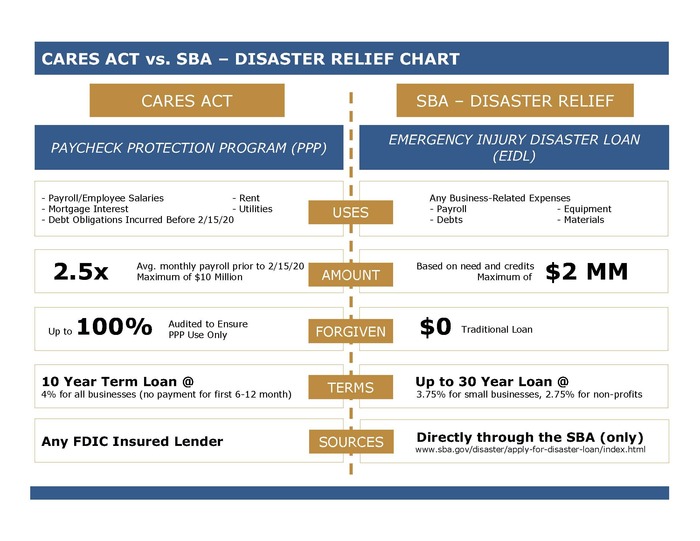 NAHB has created an online document, CARES Act and Small Business Lending Programs, that offers more details about these small business lending programs, including the conditions required for loan forgiveness.
As noted above, the two SBA lending programs are critically important because, for many businesses that meet key conditions on the use of these funds, the loans may be forgiven.
NAHB has also prepared an online FAQ for businesses considering applying for a PPP 7(a) loan. The FAQs cover eligibility, purposes for which funds can be used, loan forgiveness conditions, and documents needed for an application.
---
(Updated 04/01/2020) The Treasury Department released the application for the SBA 7a Paycheck Protection Program PPP loans which you can access here.
Small businesses and sole proprietors can apply beginning this Friday, April, 3, 2020; independent contractors and the self-employed can apply beginning next Friday, April 10, 2020. Applications go directly to SBA lenders, which you can find through the SBA website.
Attached are the PPP Borrower Information Fact Sheet for small businesses to help keep their employees employed.
---
(Updated 03/27/2020) Please find NAHB resources pertaining to the CARES Act by following this link. Additionally, we are providing more information on the SBA Disaster Assistance Resources for Businesses for our members.
---
(Updated: 03/25/2020) During the COVID-19 press conference, Governor DeWine and Lt. Gov. Husted made it very clear, ENFORCEMENT of Stay At Home Order is coming and should be expected. Below is a list of bullet points to prepare as best you can.
READ the Order, and use your best judgment under the plain reading of the Order. See the following with OHBA Stay at Home Recap and Guidance.
DOCUMENT. Please download this HBA Dayton - Stay at Home Compliance Note or have your own documentation ready on how you deem your work as an essential business and be able to justify operations. See this list of exempt trades.
SAFETY PROTOCOLS. Have supplies, soap, masks, sanitizer, etc., to show compliance with Section 18 of Stay At Home Order. MUST have safety procedures in place to be able to stay open as an essential business.
ENFORCEMENT. Be prepared to stay at home, and be told to stop operations if you can not comply.
---
(Updated: 03/24/2020) Please see the following .pdf for the Ohio Home Builders Association's "Stay at Home" recap with interpretations: OHBA Recap.
---
OHBA officers have unanimously agreed to require all members to implement the NRP Construction job site protocols. OHBA has advised the DeWine-Husted Administration this is done to assure a safe workplace for all employees.
Please continue to adhere to the following guidelines: NRP Construction - Infectious Disease Safety Protocol
---
(Updated 03/23/2020) SBA Resources