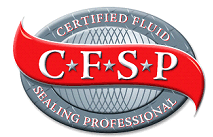 Certified Fluid Sealing Professional Program
The Certified Fluid Sealing Professional program is designed to recognize and promote those individuals engaged in the fluid sealing industry in any of the application, sales, service, installations, or manufacturing processes. Interested individuals must apply to the program and complete a two part online open book examination.
Development of the CFSP program has involved many hours of volunteer labor, provided by ISD members and industry experts. Using the Fluid Sealing Association (FSA) standards as a foundation, and under the guidance of the National Occupational Testing and Competency Institute (NOCTI), ISD has crafted a comprehensive exam, designed to test an applicant's knowledge and skills, providing a prestigious Certificate of Completion to all successful professionals. CFSP Certificate
The exam is based on eight FSA fluid sealing product standards manuals, covering such areas as: Metallic Gasketing; Compression Packings; Mechanical Seals; Non-metallic Gaskets; Molded Packings; Non-Metallic Expansion Joints; and, Ducting Systems. A glossary of fluid sealing terms and components is also included in the exam.
"It absolutely has been advantageous in securing new business in existing accounts as well as new customers. We are in the process of making it mandatory for our outside salesmen to become certified with the intention to have everyone certified by the end of 2009. I encourage all my colleagues that are not certified to take the leap and participate in this program, not only because it's educational but it's an excellent marketing tool and it really sets you apart from the competition. I actually put the CFSP logo on my business cards because it draws more attention to our professionalism at Pioneer." Christy Otto, Pioneer Industrial and ISD Board member.
For additional information please contact Colleen McDonough at the ISD Office (410) 263-1014 .
Exam Fees: $375 for ISD Members - If a company signs up two individuals at the same time the exam fee is $350 per person. If a company signs up three individuals or more at the same time the exam fee is $325 per person.
$675 for Non ISD Members
Study Manual: $129 for the 8 FSA Standards Manuals (not needed to be purchased if the company already has them)
Click Here to download the CFSP Study Guide Order Form.
Click here for instructions for setting up your local computer to take the exams: CFSP computer setup
Apply online for CFSP