Complete Story

05/04/2019
Sándor Áron Kibédi Varga (1930-2018)
ISHR News / Obituaries
Sándor Áron Kibédi Varga (1930-2018)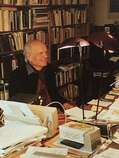 In April 2018, a distinguished and long-standing member of our Society passed away in Freiburg (Germany). Born in Szeged (Hungary) in 1930, Áron Kibédi Varga was for many years the moving force behind the Dutch section of the ISHR and a member of the Society's very first international Council (1979-1983). After studying French language and literature in Amsterdam, Leyden and Paris (1948-1954), for many years he taught French literature in Amsterdam at the University of Amsterdam and the Free University. In the French speaking world, he was one of the first to study literary texts from a rhetorical perspective and to combine literary practice with theory. He published several works on the subject which are now considered classics: Rhétorique et littérature. Études de structures classiques, Paris: Didier/Klincksieck, 1970, 20022; Les Constantes du poème, Paris: Picard, 1977; Les Poétiques du classicisme, Paris : Aux amateurs de livres,1990. In his teaching, he used to illustrate the study of literary texts by showing his students paintings or sculptures produced in the same period. More and more, the relationship between text and image became his main object of investigation. In 1984, he founded and directed for over a decade a new department at the Free University, Word & Image Studies. In 1987, he founded, with John Dixon Hunt, the International Association of Word and Image Studies (I.A.W.I.S.). In his Discours – Récit – Image, Brussels: Mardaga, 1989, he offered an integrated view of literature, rhetoric, fine arts and contemporary theories of artistic creation. Both his scientific work and his university teaching met with international recognition and acclaim. As early as 1971, he was a visiting professor at the University of Iowa. He taught at Yale in 1975 and at Princeton in 1980.
Áron Kibédi Varga was also a poet who published eight collections of poems in his native country. His creative and critical writings earned him in 2000 the medal Pro Cultura Hungarica; in 2006, he was created Officer in the Order of Merit of the Hungarian Republic. Already in 1977, he was created in Paris Officier des palmes académiques and in 1995, Ridder in de Orde van Oranje-Nassau. Moreover, he was elected as a member of two national academies: in 1981, at the Royal Netherlands Academy of Arts and Sciences; in 1990, at the Hungarian Academy of Sciences. ungary.
An almost complete list of his publications from 1950 to 1995 can be found in the festschrift offered to him on the occasion of his departure from the Free University of Amsterdam: Leo H. Hoek and Kees Meerhoff (Eds.), Rhétorique et image. Textes en hommage à Á Kibédi Varga, Amsterdam / Atlanta GA: Rodopi, 1995, p. 297-316.
Kees Meerhoff
University of Amsterdam
kees.meerhoff@uva.nl