Employer of Choice
What is the Employer of Choice?
The LeadingAge Ohio Employer of Choice initiative:
Establishes the operational standards for strengthening workforce practices among aging services employers;
Creates criteria/thresholds by which to evaluate the standards;
Provides a public recognition of this excellence so that residents, clients/customers, prospective employees, payors and other stakeholders can be aware
Through this instrument, LeadingAge Ohio members demonstrate that they strive not just to be residences/providers of choice, but they seek to be employers of choice as well. They acknowledge the importance of treating their employees – those that serve their residents/clients – with the same care they wish these employees to provide.
CONGRATULATIONS TO THE 2019-2020
EMPLOYER OF CHOICE RECIPIENTS!
We are pleased to recognize the following 2019-2020 LeadingAge Ohio Employers of Choice winners!
Gold Level

• Otterbein SeniorLife St. Marys (St. Marys)


---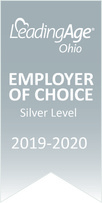 Silver Level

• Jennings (Garfield Heights)
• Kendal at Oberlin (Oberlin)
• Ohio Living Home Health and Hospice Greater Toledo (Toledo)
• Ohio Living Home Health and Hospice Greater Youngstown (Canfield)
• Ohio Living Home Health Greater Dayton (Sidney)
•Twin Lakes Senior Living Community (Montgomery)
---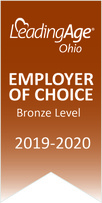 Bronze Level

• Bethany Village/Graceworks (Centerville)
• Genacross Lutheran Services Napoleon Campus (Napoleon)
• National Church Residences Bristol Healthcare (Waverly)
• National Church Residences Chillicothe (Chillicothe)
• National Church Residences Legacy Village (Xenia)
• Ohio Living Dorothy Love (Sidney)
• Ohio Living Home Health and Hospice - Greater Akron (Fairlawn)
• Ohio Living Home Health and Hospice - Greater Cincinnati (Monroe)
• Ohio Living Mount Pleasant (Monroe)
• Otterbein SeniorLife Cridersville (Cridersville)
• Otterbein SeniorLife Marblehead (Marblehead)
• Otterbein SeniorLife Monclova (Monclova)
• Otterbein SeniorLife Pemberville (Pemberville)
• Otterbein SeniorLife Perrysburg (Perrysburg)
• Otterbein SeniorLife Union Township (Union Township)
• Valley Hospice (Rayland)
Requirements for Eligibility and Criteria
Before beginning the application process, please note there are several minimum requirements an Employer of Choice must meet:
In order to apply for this designation, if a nursing facility or home health organization, the facility must be a 3-Star or above (as of the most recent published rating)[see page 6 of application for additional information]; and
For newly opened communities, an occupancy rate of 80% or better for at least one year as of the date of application; and
If an organization has less than the appropriate benchmark median number of Days Cash on Hand or Current Ratio, additional supporting materials will be requested in order to validate financial viability [see page 8 of application for additional information]. Additional supporting materials should be submitted in advance of completion of the application.
The Employer of Choice designation is applicable to individual communities/locations, that is, it is not applicable to a multi-site. Note, however, that exceptions to this requirement may be granted on a case-by-case basis to multi-site organizations that centralize their human resource functions.
The LeadingAge Ohio Employer of Choice recognition program is based on twelve (12) categories of measurement. The categories are defined in the criteria for Employer of Choice link below.
2019 Committee Assessment/Application Review Process Findings
The revised criteria are designed to look at every question in the criteria through a three-step process referenced going forward as the ADR process. The ADR process is a simple continuum as represented below:
Approach Deployment Results
The three components are defined as follows:
Approach – what is the process, method, policy, planned action, etc. that the applicant shares in response to the criteria requirement (each of the bulleted questions)
Deployment – how has the applicant demonstrated that the approach has been implemented – depth, breadth, systematic versus situational, improvement cycle in place, etc.
Results – what measurable reflection of the implementation and/or impact is demonstrated, how many measurement cycles have been completed, improvements reflected over time, etc.
Assessment Scale:
Does not meet: limited or early stage implementation
Meets: practices are generally established and showing maturity in implementation
Exceeds: practices are comprehensive and well established, fully implemented, outcomes measures in place to assess effectiveness
A reviewer would look to ensure that every criteria item is addressed, the extent to which the approaches are deployed, the level of maturity demonstrated by the applicant in the implementation and impact, and the extent to which results/measurement systems are apparent and generating data to support decisions and operational improvement. Providing anecdotal evidence versus systematic approaches is a critical determination in the maturity of an approach, and will be valuable in terms of placing the applicant at the proper level on the assessment continuum.
Placement on the continuum – "Does not meet" through "Exceeds" remains subjective, however, with the ADR continuum, this becomes a bit more accurate. With practice, the process becomes highly reliable in placing applicants in the right "level" on the rating continuum.
This evaluation approach sets the stage to add a feedback loop going forward, providing applicants with feedback and priorities for action as they seek to enhance their status as a true "Employer of Choice." This step would further enhance the value of Leading Age Ohio membership while also strengthening the quality of the senior living sector's effectiveness.
Click the links below for details on organizations that received the "Exceeds" assessment in the specified category.
Questions
Questions about the application process should be directed to Susan Wallace, President/CEO of LeadingAge Ohio; swallace@leadingageohio.org; 614-545-9024.
Workforce Resources
Careers That Love You Back