02/08/2022
Expo Spotlight: Rick Brunsman
Mid-America Restaurant Expo & Conference, Trade Show Manager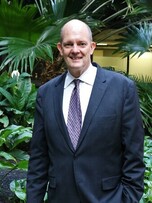 Full Name: Richard M. Brunsman
Title and Preferred Name: Rick Brunsman, Trade Show Manager
Tell us a little bit about yourself and your history in the Trade Show world:
I grew up in the trade show business at an early age working with my father and have carried that passion throughout my career working on some of the largest events in the country.
What are you most looking forward to about the 2022 Mid-America Restaurant Expo & conference?
I'm most looking forward to bringing together industry vendors who have the products and services that restaurant owners and foodservice operators need to give their business a competitive advantage to grow in the current market and looking forward.
What's your favorite thing to cook?
Pasta
What's your favorite thing to eat?
Pizza
What's something about you that surprises people?
I was a model when I was a kid, not a hair model but a regular one.
Rapid fire! This portion will be "this or that" questions about food.
Coffee or Tea - Coffee
Steak or Seafood - Seafood
Beer or Wine- Wine
Fries or Tots- Fries
Caesar Salad or Garden Salad - Ceasar
Cake or Pie - Cake
Pizza: Cheese or Pepperoni - Pepperoni
Tacos: hard shell or soft shell - Soft shell
Burger or hot dog - Burger
Chocolate or Vanilla - Chocolate