Compete at the expo
2022 Competition Information
Registration is NOW OPEN for all competitions at the 2022 Mid America Restaurant Expo & Conference.
Participants must be at least 16 years old, and work as an industry professional or be enrolled in a culinary program in order to be eligible. All Mixed Up contestants must be at least 21 years of age.
Mixed Up Cocktail Competition
The Mixed Up Cocktail Competition encourages participants to create a modern interpretation of a classic cocktail using five ingredients or less. Have a great bar program? Show it off at the first annual Mixed Up! Winners will receive a cash prize! For a full list of rules, CLICK HERE.
Food Fight
This competition is designed for kitchen professionals that like to think on their feet! Teams of two will work together to put together an appetizer and main course using a secret ingredient they will only be revealed when the bell goes off! We are accepting the first 20 applications. Winners will be determined by taste, presentation, and ability to seamlessly incorporate the secret ingredient. Enter for a chance to win a cash prize! For a full list of rules, CLICK HERE.
Expo Burger Battle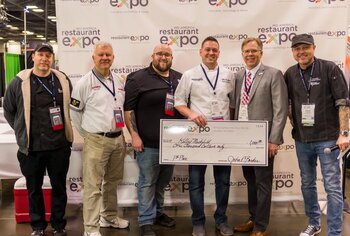 Bring your Best Burger to the Expo Burger Battle! Be one of 24 contestants vying for Best Burger in the Midwest honors and the chance to win $1,000! The contest is simple: Make three servings of your All-American sandwich, using fresh and delicious ground beef. Make it classic or creative, old school or modern. Above all, be sure to impress our judges! For full list of rules. CLICK HERE.
Be a Judge!
For questions about becoming a judge, contact Shoshanna Gross by email or at 917.628.3198
---
2
020 Winners
2020 "Best of the Midwest" Pizza Pizzazz Winners

1st place: Antonio's Italian Ristorante, Carmela Cataldo
2nd place: DeFelice Brothers Pizza, Dominic DeFelice
3rd place: Sloopy's Sports Café, Jeremy Corbin
2020 Burger Battle Winner:
1st place: Hudson 29 Upper Arlington, Kelby Muehfeld