Consumers
Complaint Procedures
The Grievance & Ethics Committee of the Michigan Funeral Directors Association is empowered to receive, investigate and adjudicate complaints against its members on behalf of the consumer. However, since the Michigan Funeral Directors Association is a private organization, the most severe penalty it can impose is to revoke the membership of its members. Only the Department of Licensing and Regulatory Affairs, which is a state agency, can revoke the license of a funeral home found in violation of laws or regulations. You may file a complaint with either entity.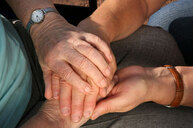 PLEASE NOTE: Although a complaint is valid to the complainant, it might not be a matter with which the Association or the Department can deal. The Department may only consider those matters that constitute a violation of its laws and rules, and the Association can only take remedial action with those matters that violate its Code of Ethics. For example, there are some areas of service, such as bad manners, human error or bad communication, which cannot be the basis for imposition of a penalty. Unlike the Department, however, the Association will investigate all complaints and attempt to achieve a reconciliation between the parties.
The law does not permit the Association to establish rules or regulations that result in a restraint of trade. This means that the Association may not set fees or dictate what services a funeral home may offer.
By law, cemeteries and funeral homes in Michigan cannot be owned or managed by the same person or business. Therefore the Michigan Funeral Directors Association has no cemeteries as members and can take no action against them. However, the same Department of Energy, Labor & Economic Growth does regulate private cemeteries, and complaints about cemeteries should be forwarded to the Department.
HOW TO MAKE A COMPLAINT
If you wish to make a complaint against the professional practices or conduct of any funeral staff personnel, you may wish to use the following procedure:
SAVE ALL RELATED DOCUMENTS...
Your funeral service contracts and any documents pertaining to the funeral goods or services you received provide valuable information.
SPEAK TO THE PERSON IN CHARGE...
State law requires that each funeral home designate a licensed funeral director as the manager of the facility. Seeking out and talking over your problems with this person is often all that is needed to resolve any differences.
EXPLAIN YOUR CONCERNS...
Get responses to all your questions until you are satisfied that you have obtained all the information you can.
FILE A COMPLAINT...
If you still are not satisfied, we ask that if the funeral home is a member of the MFDA, please file a complaint directly with the Michigan Funeral Directors Association addressed to:
Chairman
Grievance & Ethics Committee
Michigan Funeral Directors Association, Inc.
2420 Science Parkway
Okemos, Ml 48864
Or you may complain to the State by writing to:
Department of Licensing & Regulatory Affairs
P.O. Box 30018
Lansing, Ml 48909
Or a complaint form may be downloaded from the Department's web site http://www.dleg.state.mi.us/bcsc/forms/enf/lce-992.pdf