02/12/2019
David Macari, M.D.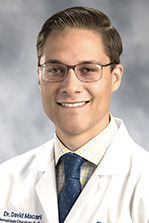 Dr. Macari is a Michigan native. He graduated with a B.S. in Biology from Eastern Michigan University and went on to complete his medical school, internship, and residency at the University of Michigan. His interest in medicine began in high school on a medical mission trip and continued to evolve during college while working as a nurse assistant in a nursing home and then at St Joseph Mercy Hospital in Ann Arbor. His interest in Hematology/Oncology grew through his training as he found an intersection of philosophy, science, complex decision making, and the deeply meaningful role that physicians in this field are privileged to fulfill.

He is currently a fellow in Hematology/Oncology at Beaumont Hospital in Royal Oak, MI and is engaged in research across Hematology/Oncology including vascular access device complications during AML treatment, colon cancer outcomes, and medical cannabis use in cancer patients. He is a member of the Beaumont Resident Fellow Council which represents over 900 house officers. He joined the Michigan Society of Hematology Oncology Board as a Member in Training in 2018.

Outside of medicine, Dr. Macari enjoys family time in Royal Oak with his wife and son. You are likely to find them at a neighborhood park doing their best to tire out their energetic 2.5 year old. He also enjoys weight lifting, classic literature, and travel.