Complete Story

05/16/2016
Stivarga

Product Website: www.stivarga-us.com
Production Information: Click Here for PI
NDC Code: 50419-0171-03 (3 bottles each containing 28 tablets of 40mg)
Companion Diagnostic: NO X YES X
REMs: NO X YES X
Limited Distribution: NO X YES X
Not available through retail pharmacies. Stivarga is distributed through a select network of Specialty Pharmacy Providers (SPPs)
Manufacturer Reimbursement Assistance:
www.stivarga-us.com (Resources for Expert Assistance and Care Helpline)
If there are financial barriers to fulfilling this prescription, Bayer may be able to help.
Patient materials currently available from your sales specialist: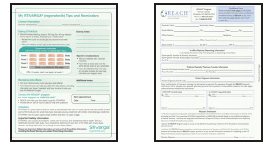 Direct to patient nurse/clinical support program:
REACH nursing services program at 1-866-639-2827. Patient will be opted in through the REACH enrollment form
Additional products/supplies for patients:
(Pillboxes; handcream, etc.)
Professional educational materials available from your sales specialist: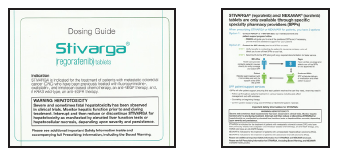 Materials will be forthcoming and distributed by Bayer and Onyx sales consultants. A REACH enrollment form is available for download at www.stivarga-us.com
The best source of updated product information is your pharmaceutical sales specialist.
To identify or connect with your specialist please contact:
Rick Solarz
richard.solarz@bayer.com
330-289-4648