Complete Story

11/05/2018
CLOSER LOOK | E- Newsletter
October Issue
In this Issue:
Nominations Are Now Open for the MSPCA Board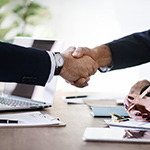 Are you interested in serving MSPCA and the pest management industry? Would you like to get more involved with the association in a leadership capacity? Then please submit MSPCA's Board of Directors Nomination Form for consideration by the MSPCA Nomination Committee.
Board members represent various facets of the industry and help provide strategic guidance for the future of the association. Board members are appointed for a two-year term and will be voted on by the membership during the 2018 December Annual Meeting in Annapolis, MD.
Plus:
October Board Meeting & December Annual Meeting
2018 Fred Neil Scholarship Winner Announced
Learn About MSPCA's New Management Team
Have You Checked Out The New Website?
New Logo, Same Mission
Like Us on Facebook
Download the October Issue Now!
Not receiving our newsletter? Sign up by clicking here. Want to submit something for our newsletter? Click here.
---