Complete Story

06/05/2013
Radio Broadcaster Receives Honorary Doctorate Degree
NCAB's George Beasley Honored
NAPLES, Florida, June 3, 2013 – Beasley Broadcast Group, Inc. is delighted to share that the Company's Chairman and Chief Executive Officer George G. Beasley has received a Doctor of Humane Letters, Honoris Causa during Appalachian State University's recent May commencement.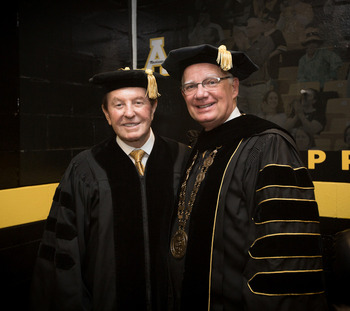 A native of Patrick County, Virginia, Mr. Beasley enjoys deep ties to Appalachian State University (ASU) in Boone, NC receiving both his undergraduate ('58) and graduate degrees ('60) from ASU. Most recently, he contributed the lead gift making possible a new broadcasting and media facility on campus – the George G. Beasley Media Complex, which is scheduled to open later this year.
Mr. Beasley's life has been one of service and leadership to radio broadcasting, to his community, to his love of education and to his alma mater. He is a member and past chairman of the Appalachian State University Foundation Board of Directors, and currently serves on the Campaign Steering Committee. Additionally, he is a past member of Appalachian's Board of Trustees, and a former member of the College of Fine and Applied Arts' Communication Advisory Board. In 1990, Mr. Beasley received the Alumni Association's Distinguished Alumnus Award.
In 1961, Mr. Beasley founded Beasley Broadcast Group, Inc. and throughout his 50-plus years in radio broadcasting, he has served on many boards and earned numerous accolades from the broadcast industry, as well as from various civic and charitable organizations. Most notably, the Library of American Broadcasting named Mr. Beasley a 2012 Giants of Broadcasting honoree. The North Carolina Association of Broadcasters honored Beasley in 1996 with its Distinguished Service Award, and again in 1998 as he was inducted into the NCAB Hall of Fame. The Florida and Nevada state associations have also bestowed their highest honors upon him. In 2003 Beasley was the recipient of the Broadcasters Foundation's prestigious Broadcast Pioneer Award.