Complete Story

OABA Participates in State Legislative Fly-In in Washington, D.C.
Henney Discusses Critical Agribusiness Topics with National Legislators
Ohio AgriBusiness Association President and CEO Chris Henney joined other state and national organizations in Washington, D.C., for the 2013 State Agribusiness D.C. Fly-In. The fly-in is hosted annually by national partners including Agricultural Retailers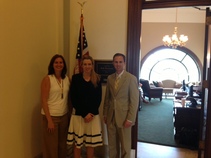 Association, Biotechnology Industry Organization, CropLife America and The Fertilizer Institute.
Henney met with staff of U.S. Senator Sherrod Brown, member of the Senate Agriculture Committee; U.S. Rep. Marcia Fudge, member of the House Agriculture Committee; U.S. Rep. Jim Jordan; U.S. Rep. Robert Latta and U.S. Senator Rob Portman. Henney also met with Ford West, president of The Fertilizer Institute, to discuss fertilizer security and the 4R Nutrient Stewardship program.
During the visits, Henney shared several key issues impacting the Ohio agribusiness industry. Among other topics, conversations focused on the importance of technology – such as GMOs – for agriculture, and fertilizer security – which has been at the forefront of our national legislators' minds since the West, Texas incident.
"Periodic trips to our nation's capitol are pretty important," Henney said. "Our U.S. Senators and Representatives have questions about issues facing the agriculture industry, and it's important that OABA has a connection with not only the legislator, but also the staff, as we work to represent our members' interests."
*Photo Caption: Kellie Bray, CropLife America; Kate Flocken, Senator Portman's Legislative Aide for Agriculture; Chris Henney, OABA President and CEO