Complete Story

09/30/2016
Ohio ACEP Supports Judge Pat DeWine for Justice
Chapter enthusiastically backs respected Appellate Court Judge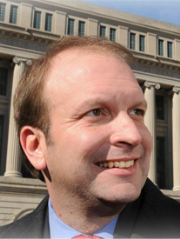 Judge Pat DeWine is the clear choice for Ohio Supreme Court Justice. Judge DeWine—who will face Judge Cynthia Rice in the general election—has consistently demonstrated his belief in judicial restraint and will help hold the line on efforts to roll back liability reforms.
Pat DeWine currently serves on the First District Court of Appeals, based in Cincinnati. An excellent writer, Judge DeWine is known for the quality and thoroughness of his legal opinions. His opinions reflect his strong belief in judicial restraint and his respect for the constitutional roles of the other coequal branches of government. He has had the honor of having been selected to sit by designation on the Ohio Supreme Court.
Judge DeWine's service has been enhanced by his experience on the trial bench. On the Hamilton County Common Pleas Court, he earned a reputation as a judge who treated litigants fairly and ensured that criminal defendants received appropriate sentences.
Judge DeWine also has served as a Cincinnati City Councilman, a Hamilton County Commissioner, and an adjunct professor at the University of Cincinnati College of Law and McMicken College of Arts and Sciences.
After graduating from law school at the University of Michigan, Judge DeWine was selected for a clerkship on United States Court of Appeals for the Sixth Circuit, one of the most prestigious and sought after positions a young lawyer can receive. He served under the Honorable David A. Nelson, who had been appointed to the Sixth Circuit by President Ronald Reagan.
Since graduating from law school, Judge DeWine has lived in Cincinnati. He and his wife Rhonda are the proud parents of five children: Michael, Matthew, Jacob, Grace, and Brian.
---