Complete Story

09/30/2016
Judge Pat Fischer Earns Ohio ACEP Support
Chapter recommends dedicated public servant and respected jurist in his general election race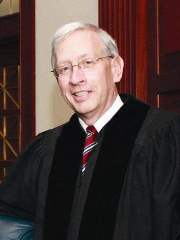 Ohio ACEP is pleased to support Appeals Court Judge Pat Fischer for Ohio Supreme Court. As a respected legal mind, Judge Fischer understands the Court's duty to fairly interpret the law, not to rewrite it, and he will be a firm ally of Ohio's emergency physicians.
Having represented both plaintiffs and defendants while an attorney, Judge Fischer knows the importance of being able to see and listen to all sides on an issue. Knowing and understanding the law as he does, Judge Fischer is keenly aware of how important it is that the law be applied properly to the facts in each case.
A respected member of the legal community, Judge Fischer served on the Ohio State Bar Association's Board of Governors, chaired its Budget and Headquarters Committee, and served and still serves on many other Ohio State Bar Association and related committees and task forces, as well as the Ohio Lawyers Assistance Program board. Judge Fischer also has always had a deep and abiding interest in ethics and professionalism matters.
Judge Fischer began his legal career with a clerkship for U.S. District Court Judge William Bertelsman, and went on to become a partner in the law firm of Keating Muething & Kleklamp. He served two terms on the Ohio Supreme Court's Commission on Professionalism.
In his free time, Judge Fischer has been a dedicated public servant who has served on numerous local boards including the Hamilton County Mental Health & Recovery Services Board, Visions Community Services Board, the St. Ursula Villa Board, and was a founding member of the Cincinnati Children's Museum Board. Judge Fischer and his wife Jane live in Pleasant Ridge where he served as President of the Pleasant Ridge Community Council. He is an active member of St. Xavier Catholic Church in downtown Cincinnati, serving as both a Eucharistic Minister and Lector.
---