EMPLOYERS
Employers want to post a job?
CLICK HERE to submit your listing.
All submitted job listings will be posted for ONE month unless OAPA is notified by the employer that the position has been filled.
There is a $50 fee for regular text ads.
NEW Online Advertising Rates
OAPA now offers graphic ads within our right hand column for both the Job Seekers & Job Employers sections of the OAPA website. Graphic ads will appear on the site for 3 months. All graphics must be supplied in .JPG or .PNG format within the specified max pixel dimensions below. Rates are as follows:
$100 – Small graphic ad (252 x 200 max pixels)
$500 – Large graphic ad (252 x 400 max pixels)

Cleveland Clinic

Multiple Positions - Various Specialties

Cleveland Clinic is currently seeking qualified Physician Assistants for a variety of opportunities in Northeast Ohio. We are the largest employer of Physician Assistants in Ohio, and one of the largest employers in the country! We invite you to discover more about being a Physician Assistant at Cleveland Clinic, about the profession and the opportunities we have to offer.
- Cleveland Clinic is an exciting and innovative organization, serving patients from every state in the country and around the world!
- You can work in a variety of settings – at our downtown campus or at one of our 9 regional hospitals or numerous family health and surgery centers.
- We offer a competitive compensation and a benefits package specially designed for Physician Assistants, including: tuition loan forgiveness for new graduates, sign-on bonuses for experienced candidates, professional reimbursements, relocation and more!
Apply today by going to http://jobs.clevelandclinic.org and Click on select "Advanced Practice" under Professional Area or type PA in the Search Jobs box.
If you don't see an opportunity you are interested in pursuing, sign-up for job alerts in the upper right hand corner.
---
MedOne Hospital Physicians

Physician Assistant

Physician Assistant for busy Hospitalist group in Columbus, Ohio. Evaluates new and existing patients by performing a history and physical, orders and interprets laboratory and diagnostic studies, prescribes pharmacologic and non-pharmacologic treatment modalities, and monitors for effectiveness of interventions for complex acute and chronically ill patients on the hospitalist service under supervision of a physician. Experience preferred but will consider new graduate.

Contact Person:Michelle Wende
Phone:614-558-3326
Email:mwende@medonehp.com
---
PHYSICIAN ASSISTANT II
TriHealth Good Samaritan Hospital in Cincinnati, Ohio
FT, shift varies (#140919)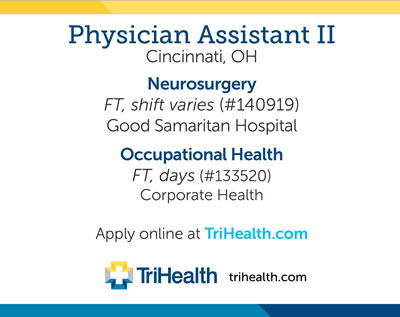 This position is a clinician with advance education and clinical practice. Under direct physician supervision, this position:
*manages patients, providing primary health care and case management, focusing on disease prevention, and the management of minor, chronic, and acute illness in collaboration with the collaborating/supervising physician
*works in close collaboration with the entire multi-disciplinary team to establish realistic goals and a thorough participant plan of care
Job Requirements
EDUCATION: Graduate of an approved technical, professional, or vocational program with a BA/BS plus 2 years post-graduate evaluation; BLS/CPR (Basic Life Support for Healthcare Providers) and ACLS; NCCPA certification with passing grade on initial NCCPA board exam, and recertification every 6 years
PHYSICIAN ASSISTANT EXPERIENCE: 3-4 years Other, PHYSICIAN ASSISTANT
SPECIALIZED KNOWLEDGE: demonstrated exceptional interpersonal relations and problem solving; strong interest in acute patient care in an inpatient setting
Apply online at TriHealth.com to job #140919.
---
Avon Mediclinic

Physician Assistants

Company looking for energetic Physician Assistant in the Urgent Care / Family Practice settings. Duties will include History and Physical examination, Diagnosis and treatment plans. evaluation of laboratory and diagnostic tests and the use of EMR. This is a part time position in the Lorain County area.Salary negotiable with experience.

Contact Person: Sharon McGhee
Phone: (440) 366-0455
Fax: (440) 281-8839
Email: avonmediclinic@gmail.com
---

Physician Assistant - Full Time Cincinnati

Due to growth, Beacon Orthopaedics & Sports Medicine has several Physician Assistant positions in our Surgery Center and Clinics.
These full-time positions are eligible for full benefits including Paid Time Off, CEU days and CEU allowances.

Contact Person: Becky Mitchell
Phone: 513-354-7663
Fax: 18663139107
Email: bmitchell@beaconortho.com