Complete Story

04/16/2018
OCRA's 2018 Annual Conference: Navigation Complete
April 13-15, 2018 - Marriott Columbus Northwest, Dublin
---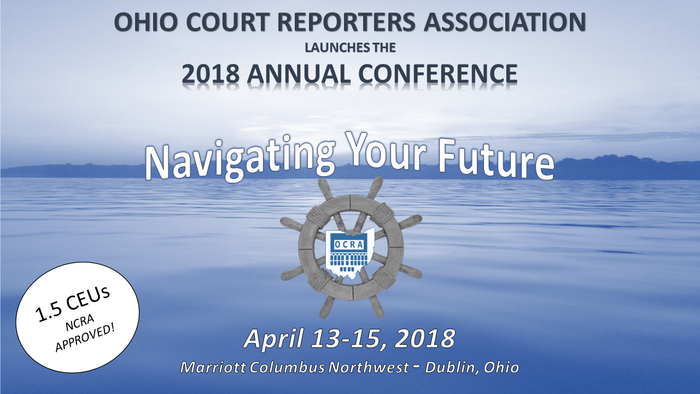 The 2018 OCRA Annual Conference was held April 13-15, 2018, at:
Marriott Columbus Northwest
5605 Blazer Parkway
Dublin
---
CONFERENCE RECAP
Thank you to OCRA member Timothy Meinke for providing the photography for the 2018 Annual Conference!
Click here to view Tim's photo album (under recent events).
---
2018 Annual Business Meeting and Luncheon
The 2018 Annual Business Meeting of the Ohio Court Reporters Association will take place on Saturday, April 14, 2018 from 11:45 a.m. until 1:30 p.m. in Dublin IV, V, and VI at the Marriott Columbus Northwest, Dublin, Ohio. All OCRA members are encouraged to attend the Annual Business Meeting, which will take place during the Saturday Luncheon of the 2018 Annual Conference (preregistration is required).
Click here for the full Annual Business Meeting notice and slate of 2018-2019 Officers and Directors
---
2018 Main Raffle Winners
| | |
| --- | --- |
| Grand Prize: $2,018 | Ric Derbin |
| 2nd Prize: 55" LG 4K Smart LED TV | Carrie Iarocci |
| 3rd Prize: Kalahari Resort one-night stay in Combination Suite, with admission up to eight to Kalahari | Angie Berens |
| 4th Prize: Geneva State Park Lodge one-night stay, with $75 gift card to the Crosswinds Grille | Donnalee Cotone |
| 5th Prize: Two Cedar Point admissions | Sara Clark |
---
THANKS TO OUR SPONSORS AND VENDORS!
as of 4/17/2018
Thank you to our conference sponsors. We can't do it without you!
Event and Session Sponsors

Friday Early Afternoon Refreshment/Vendor Break ($200)

Terri Sims, RDR, CRR

Friday Late Afternoon Refreshment/Vendor Break ($200)

Susan Coots, RPR

Susan Horak, RDR, CRR (Ret.)

Friday Night Mardi Gras Social/Vendor Reception ($350)

Veritext Legal Solutions

Saturday Continental Breakfast ($250)

Kelly Linkowski, RPR, CRR, CRC, CPE

Tammy McGhee, RMR

Saturday Morning Refreshment/Vendor Break ($200)

Gee Reporting, LLC

Saturday Luncheon and Business Meeting ($450)

PRI Court Reporting, LLC

Saturday Early Afternoon Refreshment/Vendor Break ($200)

Clark Realtime Reporting, LLC

Saturday Late Afternoon Refreshment/Vendor Break ($200)

Donna Karoscik, RDR, CRR, CRC

Yolanda Walton, RPR

All Aboard! President's Saturday Reception ($550)

Anderson Reporting Services, Inc.

Sunday Continental Breakfast ($250)

Martha (Marty) Hyland, RMR

Sunday Refreshment Break ($200)

Sue Terry, FAPR, RPR, CRR, CRC

Top-Notch Speakers ($650)

Federal Reporters of the Northern and Southern Districts of Ohio
General Conference Sponsors

Captain Level ($1,000 +)

Pamela Spangler Reis (Richard D. Reis Family Foundation)

Engineer Level ($100 - $249)

Marie Fresch, RMR, CRC

Marguerite Phillips, RMR

Steward Level ($50 - $99)

Janie Blair, RPR, CRR

Merchant Level ($1 - $49)

Carla Manahan, RPR
Student Sponsors
Lance Boardman, RDR, CRR
Sara Clark, RMR, CRR, CRC
Tracy Coleman, RMR, CRR
Susan Coots, RPR
Marie Fresch, RMR, CRC
Susan Gee, RMR, CRR
Susan Horak, RDR, CRR (Ret.)
Donna Karoscik, RDR, CRR, CRC
Allison Kimmel, RDR, CRR, CRC
Luke Lavin, RDR, CRR
Gregory Mizanin, RMR, CRR
Sarah Nageotte, FAPR, RDR, CRR, CRC
Todd Robie
Sue Terry, FAPR, RPR, CRR, CRC
Suzanne Vadnal, RMR