Complete Story

01/22/2020
January 2020 OCRA Highlights
---
---
Saturday, February 8 kicks off Ohio 2020 Court Reporting and Captioning Week. An official Proclamation from Ohio Governor Mike DeWine will be presented at the District C event being held at Motts Military Museum. Spots remain available for the CEU/educational tour at Motts Military Museum which begins at 9:30 a.m. on Saturday, February 8th. .3 CEU available!
---
OCRA partners with Ohio's Veterans of Foreign Wars
This past weekend, January 17-19, OCRA kicked off a partnership with Ohio's Veterans of Foreign Wars in collecting Ohio's veterans' stories as part of the Library of Congress' Veterans History Project. Nine veterans shared their stories. "This special VHP event kicked off a yearlong effort launched by OCRA to capture the stories of 100 American war veterans in 2020 to help celebrate the association's 100th anniversary," said OCRA President Kelly Linkowski.
Thank you to our volunteers who made this event possible: Kelly Linkowski, Tammy McGhee, Susan Coots, Eileen Beltz, Betsy Cradic, Sue Terry, and Mindy and Jeff Sindiong!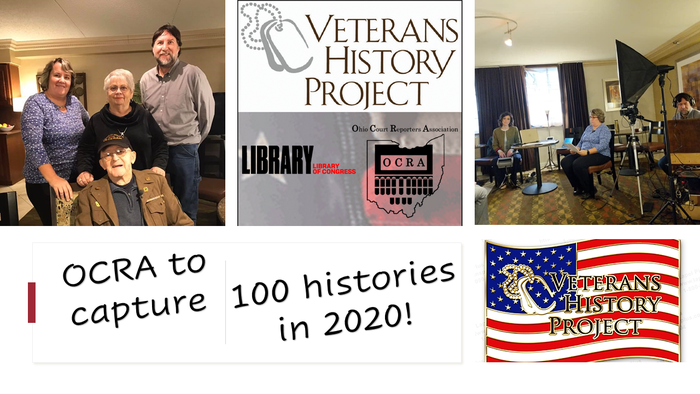 During the upcoming Ohio Court Reporting and Captioning Week, is there a veteran you know whose story could be collected? Interviews can be done individually, or you can collect several stories at an event. Your local VFW posts, rotaries, workplace and community events are happy to partner with you. At the end of February, OCRA will be submitting all interviews captured up to that time to the Library of Congress.
Are there veterans in your workplace? Clients? Family members? Every individual has a unique story that must be preserved. To help capture stories for the Veterans History Project:
* Download a field kit here for all the forms to be filled out
* Interviews happen best with three people: A court reporter taking down the story; a person asking questions (suggested questions can be found here); a person recording the video and maintaining the video log that's included in the field kit.
* Submit all forms, recordings, and transcripts to OCRA, who will then mail a certificate and special Veterans History Project lapel pin to the veteran and submit all materials to the Library of Congress
* In six months to a year, the veterans' stories will be available on the Library of Congress' website found here
In June, OCRA will be collecting more stories at Kalahari Resort at the Ohio VFW's annual convention. Details and volunteer sign-ups will be coming soon.
---
2020 ANNUAL CONFERENCE REGISTRATION IS OPEN!
CELEBRATE 100 YEARS OF OCRA IN 2020!

The 2020 OCRA Annual Conference will be held March 27-29, 2020, at the Renaissance Columbus Westerville-Polaris
A preview of some highlights of the 2020 Annual Conference:
OCRA members who register for the full weekend/all-inclusive package prior to February 17th will be entered to win a $100 refund
As we celebrate 100 Years of OCRA in 2020, consider adding a sponsorship to your registration to assist OCRA in inviting all of Ohio's movers and shakers who have made OCRA and our profession what it is today to the Centennial Celebration Saturday Night President's Reception
Come dressed for the Saturday Night Reception in your favorite decade's attire. From the flappers of the 1920s to the rock bands and high hair of the 1980s, your options are unlimited!
---
Student and New Reporter Scholarships
All submissions/nominations for the 2020 scholarships must be received by
5:00 p.m. on Friday, February 7, 2020
Rosalie Stevens Student Scholarship Award
OCRA Cardinal Foundation Student Scholarship Award
Sue Terry Technology at Your Fingertips Student Scholarship Award
Vernon C. Steele New Reporter Scholarship
---
The Ohio Court Reporters Association recognizes the outstanding dedication and achievements of fellow reporters. It is their outstanding efforts that inspire us to become not only better reporters, but more active and supportive OCRA members.
We urge your support in our recognition efforts and ask you to submit a nomination for an individual that you deem worthy of recognition.
OCRA traditionally present awards during its Annual Conference at the Saturday Luncheon and Business Meeting.
All submissions/nominations for the 2020 membership awards must be received by
5:00 p.m. on Friday, February 7, 2020
---
---
UPCOMING EVENTS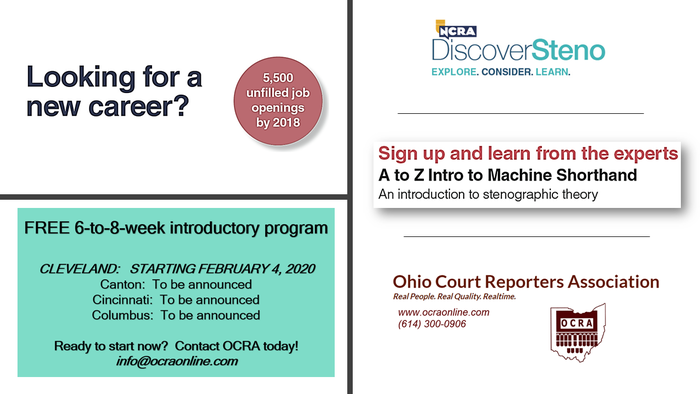 ---