Complete Story

02/09/2020
February Highlights: Centennial Celebration Preview
---
CENTENNIAL CELEBRATION PLANNING UNDERWAY
Calling all entertainers!
OCRA Members and Annual Conference attendees:
The Ohio Court Reporters Association is 100 years old and it's time to celebrate! The theme for the President's Saturday Night Reception is: "Centennial Celebration-Through the Decades."
Last year's live musical performances were a great success and we'd like to carry that forward. We are going to have several of our members sing a song (karaoke style) from each decade that OCRA has been in existence (1920-2020). Please consider getting up there and giving us your best from your chosen decade. It will be great fun for all!
The songs and order of performance will be prearranged, so submit your song request and the decade you are representing before March 15th to Tim Meinke at meinke.timothy@gmail.com.
As we celebrate 100 years of OCRA in 2020, consider adding a sponsorship to your registration to assist OCRA in inviting all of Ohio's movers and shakers who have made OCRA and our profession what it is today to the Saturday Night President's Reception.
And be sure to come dressed for the Saturday Night Reception in your favorite decade's attire. From the flappers of the 1920s to the rock bands and high hair of the 1980s, your options are unlimited! ---
CELEBRATE 100 YEARS OF OCRA IN 2020!

The 2020 OCRA Annual Conference will be held March 27-29, 2020, at the Renaissance Columbus Westerville-Polaris
OCRA members who register for the full weekend/all-inclusive package prior to February 17th will be entered to win a $100 refund
---
ONGOING AND UPCOMING EVENTS
February 8-15, 2020
In conjunction with NCRA's eighth annual National Court Reporting and Captioning week, Ohio Governor Mike DeWine and Lieutenant Governor Jon Husted have recognized and declared Ohio Court Reporting and Captioning Week February 8-15, 2020. Your OCRA is proud to have achieved this declaration for our profession here in Ohio! Click here for more information and to read OCRA's press release.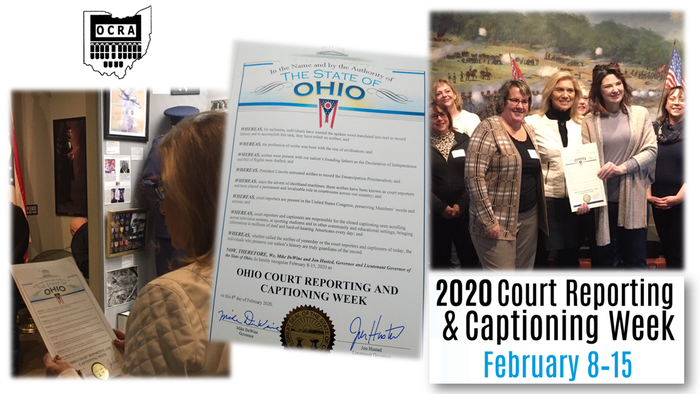 --- ---