Details

June 23, 2014
OCTA 26th Annual Golf Outing
The Country Club at Muirfield Village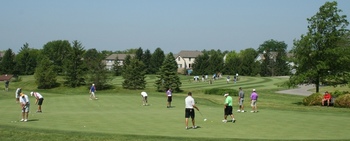 Thanks to all who joined us for a warm but breeze-blessed event at the Country Club at Muirfield Village on June 23rd. We had a great day on the course, followed by a bountiful hors d'oeuvres buffet and awards reception.
Congratulations to our scramble winners.Taking the Low Gross prize was the foursome of Al Shockey, Bill Carvaines, Ken Henderson and Bob McCollins. The winning Low Net team was Chris Steininger, Tyler Caraway, Aaron Steininger and Brian Woodrow.
Skills prize winners included Megan Lashutka for Closest to the Pin/Women; David Hoffer for Closest to the Pin/Men; Beth Florence for Longest Drive/Women, and Ron LaBeau for Longest Drive/Men.
Special thanks to our Event Sponsors and Raffle Donors!
Time Warner Cable – Reception Sponsor
Comcast – Golf Cart & Massage Therapy Sponsor
Precision Broadband Installations - Breakfast Sponsor
Buckeye CableSystem – Hole-In-One Sponsor
Sheppard Mullin – Hole-In-One Sponsor
ESPN – Beverage Cart Sponsor
Cox Communications – Beverage Cart Sponsor
MCTV – Registration & Print Sponsor
Grant Street Consultants – Print Sponsor
Outdoor Channel – Premium Hole Sponsor
NBC Universal – Premium Hole Sponsor
Fox Networks – Premium Hole Sponsor
MAVTV – Premium Hole Sponsor
Byers & Minton – Hole Sponsors
Strategic Impact Consulting – Hole Sponsors
Vorys, Sater, Seymour & Pease – Hole Sponsors
Armstrong – Hole Sponsor
Davis Wright Tremaine LLP – Hole Sponsor
B.R. Cablevision – Hole Sponsor
Ohio Council of Retail Merchants – Hole Sponsor
G.L.W. Broadband – Hole Sponsor
Raffle Items
Bob Gessner, MCTV
Derek McDermott, ESPN
John Seiver, Davis, Wright, Tremaine LLP
John D'Antonio, A&E Networks
Natalie Taylor, Discovery Communications
Johnny Nelis, Fox Networks
Max Johnson, BBC Worldwide
Chris Steininger, Precision Broadband Installations
Rosalyn Doaks, TV One, LLC
Jeff Arthur, INSP
Roger Lipscomb, OUPS
Tracy VanSlyke, Crown Media Family Network
Ed Niemi, MAVTV
Al Sorrick, Edge Broadband
Pat DeVille, Erie County Cablevision
Ron LaBeau, Buckeye CableSystem
2014-06-23
2014-06-23
America/Detroit
OCTA 26th Annual Golf Outing
Thanks to all who joined us for a warm but breeze-blessed event at the Country Club at Muirfield Village on June 23rd. We had a great day on the course, followed by a bountiful hors d'oeuvres buffet and awards reception. Congratulations to our scramble winners.Taking the Low Gross prize was the foursome of Al Shockey, Bill Carvaines, Ken Henderson and Bob McCollins. The winning Low Net team was Chris Steininger, Tyler Caraway, Aaron Steininger and Brian Woodrow. Skills prize winners included Megan Lashutka for Closest to the Pin/Women; David Hoffer for Closest to the Pin/Men; Beth Florence for Longest Drive/Women, and Ron LaBeau for Longest Drive/Men. Special thanks to our Event Sponsors and Raffle Donors! Time Warner Cable – Reception SponsorComcast – Golf Cart & Massage Therapy Sponsor Precision Broadband Installations - Breakfast SponsorBuckeye CableSystem – Hole-In-One SponsorSheppard Mullin – Hole-In-One SponsorESPN – Beverage Cart SponsorCox Communications – Beverage Cart SponsorMCTV – Registration & Print Sponsor Grant Street Consultants – Print SponsorOutdoor Channel – Premium Hole SponsorNBC Universal – Premium Hole SponsorFox Networks – Premium Hole Sponsor MAVTV – Premium Hole SponsorByers & Minton – Hole SponsorsStrategic Impact Consulting – Hole SponsorsVorys, Sater, Seymour & Pease – Hole Sponsors Armstrong – Hole SponsorDavis Wright Tremaine LLP – Hole SponsorB.R. Cablevision – Hole SponsorOhio Council of Retail Merchants – Hole Sponsor G.L.W. Broadband – Hole Sponsor Raffle ItemsBob Gessner, MCTVDerek McDermott, ESPNJohn Seiver, Davis, Wright, Tremaine LLPJohn D'Antonio, A&E NetworksNatalie Taylor, Discovery CommunicationsJohnny Nelis, Fox NetworksMax Johnson, BBC WorldwideChris Steininger, Precision Broadband InstallationsRosalyn Doaks, TV One, LLCJeff Arthur, INSPRoger Lipscomb, OUPSTracy VanSlyke, Crown Media Family Network Ed Niemi, MAVTVAl Sorrick, Edge BroadbandPat DeVille, Erie County CablevisionRon LaBeau, Buckeye CableSystem
The Country Club at Muirfield Village