Cable in the Classroom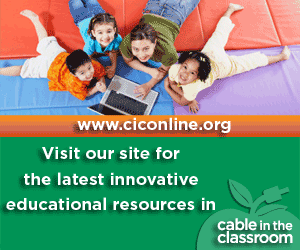 Cable in the Classroom (CIC) is the national education foundation of the U.S. cable industry. Working in partnership with, and on behalf of, the National Cable & Telecommunications Association (NCTA) and our cable industry partners, CIC advocates digital citizenship and the visionary, sensible and effective use of media in homes, schools, and communities. Since 1989, through CIC, local cable companies have been providing complimentary connections to schools, and cable programmers have offered quality educational programming. CIC enables educators to access the best of cable's video and web content.
CIC Mission Statement
Cable in the Classroom (CIC) promotes the visionary, sensible, responsible and effective use of cable's broadband technology, services, and content in teaching and learning. CIC also advocates digital citizenship and supports the complimentary provision, by cable industry companies, of broadband and multichannel video services and educational content to the nation's schools.
Areas of work:
Exercise a national leadership role in advocating the innovative and effective use of broadband in teaching and learning, and for digital citizenship.


Encourage and recognize educational leadership that exemplifies the innovative use of cable services, broadband technology, media literacy, and related services and applications.


Represent the cable industry's commitment to education by showcasing the wide variety of cable initiatives in education, and by encouraging cable industry companies to continue their efforts to contribute to learning.


Click the logo/link above or visit www.ciconline.org
Educators