OARRS Report Shows Sustained Progress in 2015
Osteopathic Profession Works with Policymakers to Address Epidemic
(February 9, 2016) Opioid prescribing in Ohio continued to decline in 2015, according to a report from the State Board of Pharmacy's Ohio Automated Rx Reporting System (OARRS).
In 2015, the total doses of opioids dispensed to Ohio patients decreased to 701 million from a high of 793 million in 2012, a drop of 11.6 percent. The number of opioid prescriptions provided to Ohio patients decreased by 1.4 million during the same time period. OARRS data also showed a 71 percent decrease in the amount of people engaged in the practice of doctor shopping since 2010
To further strengthen efforts to promote safe and responsible opioid prescribing, the Governor's Cabinet Opiate Action Team released Guidelines for the Management of Acute Pain Outside of Emergency Departments last month.
Several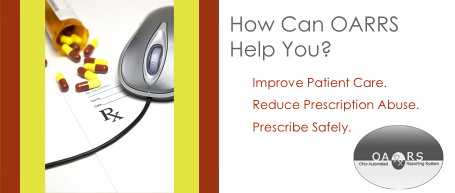 members of the osteopathic profession have worked closely with state policymakers to address the epidemic: Ohio Osteopathic Association (OOA) Executive Director Jon F. Wills; State Rep. Terry Johnson, DO; Cynthia S. Kelley, DO, of Akron; Cleanne Cass, DO, of Dayton; R. Aaron Adams, DO, of Portsmouth; and Mark N. Malinowski, DO, of Chillicothe. Kelley, Cass, and Malinowski helped write the latest guidelines, which specifically mention osteopathic neuromusculoskeletal medicine as an alternative to opioids.
Established in 2006, OARRS is the only statewide database that collects information on all prescriptions for controlled substances that are dispensed by pharmacies and personally furnished by licensed prescribers in Ohio. OARRS data is available to prescribers when they treat patients, pharmacists when presented with prescriptions from patients and law enforcement officers only during active investigations.
In October 2015, Gov. John Kasich announced an investment of up to $1.5 million a year to make Ohio the first state in the nation to integrate its prescription monitoring program (OARRS) directly into electronic medical records and pharmacy dispensing systems across the state. As a result, prescribers and pharmacists will be able to automatically check a patient's controlled substance use within the same system they use day-to-day. To date, the Board has received 148 requests for integration, including hospitals, physician offices, pharmacies and major health systems.
2014 OOA
Member Census
FREE IT Services Checkup
Chance to win $100 Visa Gift Card
Access to other Members-only Benefits
Call (855) 319-7828 today
to schedule a complimentary practice consultation.
An hour with our team could save you thousands of dollars!
Upcoming Events