Advocates for the Ohio Osteopathic Association
Overview
The Advocates for the Ohio Osteopathic Association (AOOA) is a non-profit state organization dedicated to the support and promotion of the osteopathic profession. The AOOA is affiliated with the Ohio Osteopathic Association (OOA) on the state level and the Advocates for the American Osteopathic Association (AAOA) and the American Osteopathic Association (AOA) on the national level.
AOOA Projects
The AOOA sponsors educational activities, a fundraiser during the OOA Convention, and supports district chapters and the Student Associate Advocates (SAA) of the Ohio University Heritage College of Osteopathic Medicine (OU-HCOM). The AOOA contributes to national projects which support the profession, including the AAOA Educational Endowment Fund.

Child Safety Activity Book
The AOOA has been publishing its popular and educational Child Safety Activity Book for more than a decade. Games and activities in the book are designed for parents and young children to discuss and complete together. Topics range from fire, internet, and personal safety to how to make emergency calls and deal with strangers. Click here for a sample copy: Child Safety Activity Book
What is a DO? Note Cards
The AOOA publishes note cards with educational information about the osteopathic profession printed on the back. The cards are sold in sets of 10 for a $10 donation.
Osteopathic Spirit Award
Each year the AOOA chooses an individual to receive the Osteopathic Spirit Award,which is presented during the Ohio Osteopathic Symposium. This person is nominated for outstanding work with or for the osteopathic profession.
AOOA Scholarship
The AOOA has an endowed scholarship fund at the Ohio University Heritage College of Osteopathic Medicine that provides award funds to one or more students who exemplify the potential to become a leader in the osteopathic family. Preference is given to students whose spouses are active in the Student Advocates Association.
Yellow Ribbon Suicide Prevention Program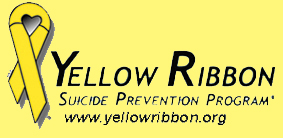 Yellow Ribbon is a community-based program that works with local organizations and individuals to empower both youths and adults with strategies for suicide prevention. The initiative was begun in 1994 by the parents of Mike Emme, a Colorado teen who completed suicide. Gathering to discuss the tragedy of losing Mike, his friends asked Emme's mother what they could do. "Don't attempt suicide," she said. "Even if you are at this point of despair, please ask for help.
The AOOA has actively supported the Yellow Ribbon Suicide Prevention Program (YRSPP), for more than a decade. AOOA President Mary Schreck has made dozens of presentation to schools and other organizations across the state and has personally helped distribute more than 15,000 YRSPP "lifeline cards" since May 2001.The national Advocates recognized Schreck's suicide prevention work and presented her with an Emme Award at the 2002 Annual Convention. Her participation and dedication to this effort along with that of her husband, Ed's, is in memory of their son Christopher who died in 1996. For more information about YRSPP, go to Yellow Ribbon Suicide Prevention Program. To schedule a presentation in your community contact Mary Schreck at schreck@ohio.edu .
Membership
Membership in the OOA Advocates is open to family members of an osteopathic physician or anyone dedicated to promoting and supporting the osteopathic profession. State and district AOOA dues are paid annually, and are included in the OOA dues notice sent to physicians. Regular dues are $20.00 state and $5.00 local. National dues are $50.00 and are paid through the AOA (American Osteopathic Association). Rates for students, interns and residents are reduced, as are those for members whose spouses are deceased. For pricing and membership status information contact Becky Marx, treasurer, or Joanne Barnhart, OOA Director of Membership and Accounting. Click here to download a membership application: Join Today!
Membership Benefits Include:
Participation in the annual OOA and AOOA convention, which bring Ohio osteopathic physicians and supporters together for educational sessions, social activities and advocacy
Selection of AOOA officers
Participation in annual and long-term planning of projects and activities
A central hub to provide ongoing support of the osteopathic profession
The AOOA Bulletin, a membership newsletter published twice annually.
Structure, Officers, Committees and Districts
The AOOA is comprised of elected officers, appointed board and committee members and district presidents or representatives. Two regular board meetings are held in the fall and spring. Pre and post Board meetings and a general membership meeting are held at the Ohio Osteopathic Symposium each spring. All AOOA members are welcomed to attend any of these meetings. Check the OOA Calendar for meeting dates.