In OSMA's monthly Health Matters, we recap the most relevant information on topics important to Ohio medical practices—including legislative advocacy actions, membership updates, professional development, our latest work and more.
---

OSMA Council Members work tirelessly on behalf of our nearly 10,000 members to ensure OSMA is meeting the needs of physicians and responding to the ever-changing healthcare landscape. Over the past year, the role of OSMA Council has become even more important—get to know our leaders!
---
Telehealth Immersion Program

OSMA is proud to support the AMA's Telehealth Immersion Program. Through a series of curated webinars, interactive peer-to-peer learning sessions, virtual discussions, bootcamps and resources on-demand, the program offers a comprehensive curriculum and enhanced experience navigating the world of telehealth alongside peers nationwide.

Updated FDA Resources for the Pfizer COVID-19 Vaccine

On Monday, the U.S. Food & Drug Administration (FDA) granted full approval of the Pfizer-BioNTech COVID-19 vaccine for ages 16 and older. COVID-19 VACCINE PROVIDERS: Please review and share updated FDA resources for the Pfizer vaccine, now known as Comirnaty.
---

MIPS Performance Feedback, Final Scores,
& Adjusted Information
CMS recently made us aware that certain MIPS participant scores for 2020 were inadvertently miscalculated due to a technical issue. CMS is recalculating all scores to ensure their accuracy and plans to update both the 2020 scores and related 2022 payment adjustment information in the next few weeks. CMS also informed that the deadline to submit an appeal, or targeted review request, would also be extended.
---
Primary Care Physicians Needed for EHR Survey
Franklin University is inviting you to take a survey to help measure the perception of readiness between allopathic and osteopathic electronic health records (EHR) training in primary care.
---

Combatting COVID-19 & Vaccine Misinformation
We know many patients have been inundated with a sea of misinformation and deceptive claims, particularly online, making it more difficult for people with questions to find trustworthy and reliable information about the pandemic and the COVID-19 vaccines. Physician efforts to keep patients properly informed about developments in the pandemic are especially critical now with the ongoing spread of the Delta variant.
---

Resident/Fellow Grant Application Opportunity
The Panacea Financial Foundation is focused on strengthening the pipeline of ethnic and racial underrepresented minorities in medicine through scholarships to medical students and grants to residents and fellows. The application for their Resident/Fellow Grants is available until 9/30/21.
---
Healthy State Alliance Opioid Symposium


October 16 • 8 a.m. – 12:30 p.m
This free, virtual event will feature addiction experts from The Ohio State University College of Medicine, Bon Secours Mercy Health and others discussing the following topics...
---
---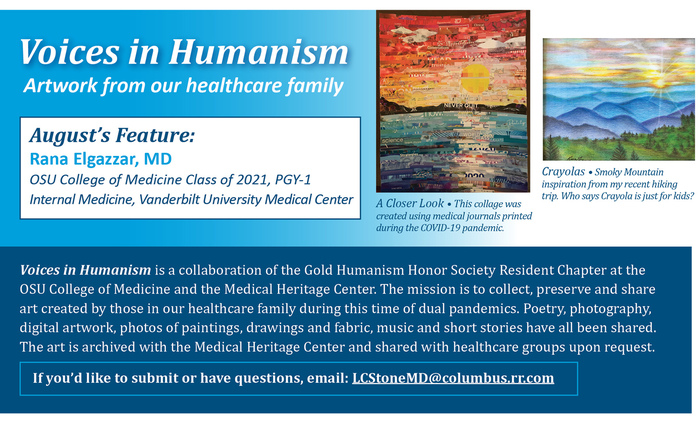 ---

---

---
---
If you have questions about this information
or OSMA's services to physicians:
Call 800-766-6762 or email OSMA.