Complete Story

02/13/2014
Windstream
Windstream Ohio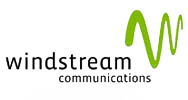 Windstream, a FORTUNE 500 and S&P 500 company, is a leading provider of advanced network communications, including cloud computing and managed services, to businesses nationwide. The company also offers broadband, phone and digital TV services to consumers primarily in rural areas. It has operations in 48 states and about $6 billion in revenues.
In Ohio, Windstream is based at Hudson and employs more than 700 people. In addition, Windstream maintains a Network Operations Center at Twinsburg that provides management and technical support for the company's nationwide wireline and transport network twenty-four hours a day, seven days a week.
Windstream prides itself on local community involvement, volunteer efforts and donations to charitable organizations. The company supports various charities with local ties such as health and quality-of-life organizations like the United Way, education-related groups like Junior Achievement that educate and inspire youth, and Partners in Education programs with elementary and junior high schools in our service areas. In addition, Windstream provides financial and telecommunications support to local American Red Cross chapters, recovery teams and municipalities to help in times of need.
More information about Windstream and the company's products and services can be found by logging onto www.windstream.com.