Complete Story

10/08/2013
The Rev. Elizabeth Eaton Installed as ELCA Presiding Bishop
CHICAGO (ELCA) -- Marking a new, historic season of ministry in the life of the Evangelical Lutheran Church in America (ELCA), more than 1,500 people gathered Oct. 5 at Rockefeller Memorial Chapel here for the installation of the Rev. Elizabeth A. Eaton as ELCA presiding bishop. Eaton is the ELCA's fourth presiding bishop and the first woman to lead the 4 million-member church. She will assume office November 1, 2013.
"I found it beautiful and deeply moving that this new ministry was begun in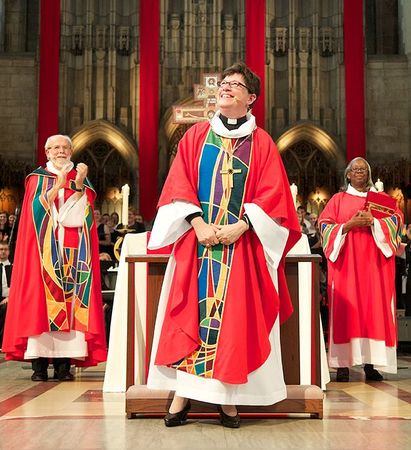 worship; that as a church, we were 'lost in wonder, love and praise,'" Eaton said of the installation service.
The Rev. Mark S. Hanson, ELCA presiding bishop from 2001 to 2013, was presiding minister of Holy Communion with the Installation of the Presiding Bishop prior to the rite of installation, and the Honorable Yolanda Tanner, vice president of the ELCA Delaware-Maryland Synod, served as assisting minister. Eaton served as presiding minister after the installation rite.
The Rev. Jessica R. Crist, bishop of the ELCA Montana Synod and chair of the ELCA Conference of Bishops, preached the sermon.
"We are here today because somebody somewhere scattered a bunch of seeds," Crist told worshipers. "They didn't all grow; they didn't all survive, but some did. That's why we are here. Look around. Look at some of the plants that have grown out of that random seed scattering. Look at these people. Look at the congregations they come from. Look at the ministries they represent. What a wild and wonderful community garden that has grown up from those scattered seeds."
"We are called to be sowers. Scatterers of seeds," she said. "We are called on to be sowers -- all of us. And we have the promise of the harvest to top all harvests. We may be out there seeing no hope of return. It doesn't matter. We may get our hopes up again and again, only to be disappointed. It doesn't matter. We may find that others are interfering with what we are doing. It doesn't matter. We may find that we have been on the wrong track entirely -- we had been doing everything exactly the wrong way. It doesn't matter."
"What matters is that we sow. Bishop Eaton and the ELCA Church Council. School children and pastors. Professors and missionaries.
Bishops and churchwide staff. Students and retired folks. Lifelong Lutherans and new believers. We are all called on to sow seeds. And what is that sowing of seeds, if it is not literally gardening?
"It is sharing the good news of Jesus Christ in words and in actions," Crist preached. "We are not solo sowers. We are part of a community. That's what the church is, a community. We don't all think alike, we don't all vote alike, we don't all have the same problems (and) we don't all have the same gifts. But together we are the body of Christ. And together we go out to sow. All over the place, and in all kinds of ways."
Crist said that those gathered came "to install Bishop Eaton, and to welcome her and empower her to sow in this wider field that she now gets to traverse. And we are also here to pledge to Bishop Eaton and to one another that we're all grabbing a bag and heading out to sow, because each of us is called through our baptism to share the good news. Each of us is invited to be a part of the harvest. Each of us is called. Each of us is empowered. Each of us is sent."
"Whoever has ears to hear, let them hear," she said. "So, go, sow! Sow! Go!"
In addition to those who gathered in person, more than 4,370 people tuned in during the event to view a live video stream of the installation. The recorded video of the installation is available at http://www.ELCA.org/installation/live. View images at http://www.livinglutheran.com/photos/installation-of-ELCA-presiding-bishop-elizabeth-a-eaton.html and on the ELCA's Pinterest board at http://www.pinterest.com/ELCAlutherans/installation-of-presiding-bishop-elizabeth-eaton.