Unclaimed Property & Escheatment Services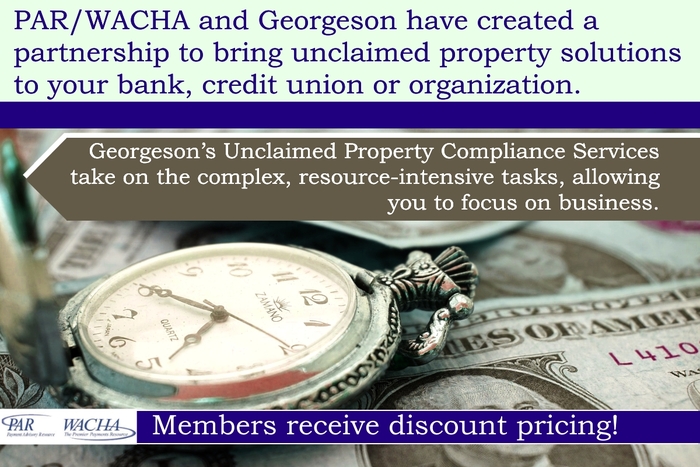 PAR/WACHA Escheatment Solutions
PAR/WACHA and Georgeson have created a partnership to bring escheatment solutions to your bank or credit union. The partnership will ensure PAR/WACHA members get discounted pricing.
Why Be Concerned About Unclaimed Property and Escheatment?
Nearly 70% of financial institutions are not fully compliant with Unclaimed Property laws—audits have increased dramatically and financial institutions are at a greater risk of fines and penalties.
Banking assets are the number one remitted property type in most states. Not only does this deplete the assets under your management, ever-changing unclaimed property laws also leave banks and credit unions at risk of non-compliance, which can result in significant fines and penalties.
With PAR/WACHA by your side, we can help you retain assets and reduce your risk of non-compliance.
PAR/WACHA Unclaimed Property Compliance Services, Training, & Tools
PAR/WACHA connects you with escheatment experts.
Georgeson's Unclaimed Property Compliance Services can manage the entire unclaimed property life-cycle, relieving your organization of these complex, resource-intensive tasks and allowing you to focus on your core business priorities. Starting with identifying the unclaimed assets on your records, Georgeson conducts due diligence requirements and develops and executes outreach campaigns to find lost and dormant owners.
Georgeson's knowledgeable professionals also assist organizations with the complex escheatment process, providing jurisdictional knowledge and monitoring legislative and other changes impacting escheatment. Their experts are well-versed in the various state criteria for identifying and reporting unclaimed property, as well as the differing industry-specific requirements and rules for submission and formatting of reports. Georgeson works with clients to document and support all due diligence efforts, prepare filings in each state-mandated format, maintain copies of all reports and supporting documentation, and protect funds until they are reported and transferred to the state.
Services
Unclaimed Property Analysis
Policy & Procedure Review – ensure your procedures are consistent with state laws
Unclaimed Property Reports Review – review of previous unclaimed property reports to identify errors and provide best practice guidelines
Dormant Account Analysis – analysis of dormant accounts (Savings, Checking, Checks, and Cds) to identify any liability
Unclaimed Property Policy and Procedure Guidelines
Unclaimed property policy and procedure templates that can be customized for your organization
Bi-annual updates to ensure compliance with changing industry standards
Owner Location Services
Georgeson's highly skilled research team will locate lost or dormant owners, identifying the accurate addresses or heirs, and assist in reactivating these accounts.
Annual Unclaimed Property Reporting
A full suite of unclaimed property reporting services, including:
Determining the eligibility for escheatment
Mailing of due diligence letters
Filing reports with all 50 states and US territories
Training and Webinars
Onsite training and support -Georgeson can come onsite and train your staff on unclaimed property.
Webinars –At least twice a year, Georgeson have webinars providing updates and education on unclaimed property within the banking industry.
Free Downloads - Don't wait for that audit letter! Click the download links for more information.
Tips for managing unclaimed property compliance for your bank
Each year, millions of dollars in banking and credit union assets are escheated in the U.S. This can result in a decreased asset base, a loss of customers and goodwill, and potential fines, penalties, and audits for non-compliance with the myriad of unclaimed property laws and requirements.
Learn about the most common reasons assets can become classified as dormant or abandoned, the costs and risks of non-compliance, and how to stop escheatment before it happens. Click on the links below to access the bank and credit union versions.
Whitepaper: "Unclaimed Property in the Banking Industry"
Whitepaper: "Unclaimed Property Compliance in the Credit Union Industry"
Here are three more free downloads to provide additional information!
Map: Bank Dormancy Periods for Savings & Checking Accounts
Map: Bank Dormancy Periods for Payroll & Wages
Map: Bank Reporting Dates for Unclaimed Property
Contact
For more information, please contact PAR/WACHA at compliance@wacha.org, or call (800) 453-1843!