Something New Florist, Gifts, and Events Recognized as 2013 Retail Florist of the Year
Something New Florist, Gifts, and Events, Canfield, Ohio, was honored as the recipient of the eleventh annual Retail Florist of the Year award, sponsored by the Wholesale Florist & Florist Supplier Association (WF&FSA) and Florists' Review magazine. Something New was recognized at the annual WF&FSA Floral Distribution Conference in Miami, Florida in late October.
WF&FSA member Mayesh Wholesale Florist in Parma, Ohio nominated Something New for this award. They noted, "Something New has great design esthetic, carry high quality product and offer outstanding service. Their showroom is one of the best around." Something new has been in business for 25 years and employs 45 in their one location.
To be eligible, all contest participants must be endorsed by a WF&FSA-member wholesale florist.
Qualified applicants for "Retail Florist of the Year' are judged on:
Visual merchandising and display, store design, and image
Advertising, marketing and promotional efforts
Customer service policies and programs
Employee benefits and training
Fresh flower selection and quality
Community and industry involvement
Overall business achievement
In presenting the award, Frances Dudley, President of Florists' Review Enterprises cited Something New's impressive displays and customer service. Through clever merchandising, an attractive and inviting showroom, and creative community outreach, it was clear why Something New was honored with this distinction.
In accepting the award, Anna Howell and Joe Mineo, who co-own the shop thanked Florists' Review and WF&FSA for this recognition. Their passion for flowers burst through in their acceptance remarks.

To learn more about this award and Something New, visit WF&FSA at www.wffsa.org.
To see a slide show highlighting Something New, click here.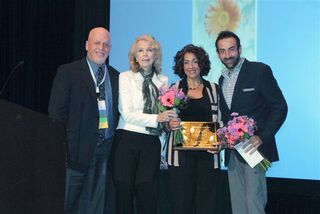 L-R: Pat Dahlson, Mayesh, WF&FSA President; Frances Dudley, President, Florists' Review Enterprises, Anna Howell and Joe Mineo, Something New
---