OFRGC Research Development Grant
Applications will be open in February 2024, with the next grant deadline being April 1, 2024.
OFRGC Brenda J. Allen Travel Grant Endowment for Women, Trans, and Non-Binary Graduate Students of Color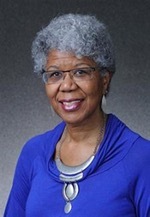 The Brenda J. Allen Travel Grant funds travel for women, trans, and non-binary graduate students of color who present on a WSCA OFRGC conference panel. We invite you to support this endowment by donating here.
Professor Allen has been a pathbreaker in the field of communication and has devoted her career to ensuring that communication and the academy as a whole are more equitable and inclusive places. Her scholarship has been foundational in intercultural, organizational, and feminist communication studies, and her mentorship record is unparalleled. She is also a long-time member of OFRGC, and has played a leadership role for years, most notably as our first "web spinner." This is why OFRGC wants to endow a student travel award in her name to honor this legacy.
Background on the Endowment Creation: OFRGC created a special committee dedicated to auditing the organization's commitment to diversity, equity and belonging. Members of the committee were compensated for their service. Karma Chávez, a committee member, donated her honorarium back to the organization in order to seed an endowment that would provide travel grants for women, trans and non-binary graduate students of color to attend and present on OFRGC panels. This endowment served as one response to the special committee's findings that OFRGC needs to do more materially to make people of color feel a sense of belonging and buy-in to the organization. The Executive Board enthusiastically endorsed this idea, and named this award for Professor Allen.
Please follow this link to make a donation: https://www.paypal.com/donate?hosted_button_id=KHZPXY79M4AVN
If you'd prefer to send a check, you can do so by making it out to OFRGC and sending it to our treasurer:
Alyssa Samek
Cal State University Fullerton
2600 Nutwood Ave, suite 420
Fullerton, CA 92831
Questions about the endowment can be directed to keeling@sandiego.edu.