Annual Golf Outing
2019 Golf Outing
Thursday, April 25, 2019
11am to 3pm
Topgolf Columbus
2000 Ikea Way, Columbus, OH 43240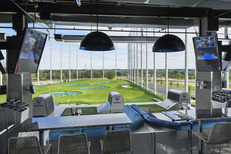 ---
SOLD OUT! Looking forward to a great day!
10:45 - Registration for players
11:00-11:30 - Appetizers & Instruction from Golf Professional
11:30-2:00 - Fajita Fiesta is served and Topgolf games begin
2:00-3:00 - Awards & Programming / Thank You's
---
---
We are very excited to hold our 2019 golf outing at Columbus's new Topgolf location! And we are ready to take your request for a 'bay' at Topgolf and for you to sign up your team of 6 players.
Topgolf, located next to the Ikea at Polaris, is an extremely fun setup that allows both golfers of any skill level (and even non-golfers) the opportunity to play games involving hitting at computerized targets while networking with the players inside and outside of your bay. The event this year will be half the time commitment of prior year golf outings, is not dependent on the weather, and will make for a great experience for everyone. In addition to playing the games with the group in your bay, you'll have the opportunity to network with chapter business partners and other members in the meeting room that will be set up for us, where business partners will have exhibit tables and where lunch, appetizers, and drinks will be served.
Bay sponsors receive an 8' table in the exhibit hall and slots for 6 team players. We will have the bar, appetizers and lunch in the exhiit hall, located right by our Chapter's bays. This will be a new and unique opportunity for your business to be showcased and time for you to thank your clients and connect with all the players.
Gold, Silver and Bronze sponsors ... your exhibit table and bay are already reserved. Just complete the form with the names of your team.
Just want to reserve a table in the exhibit hall or sponsor a team? No problem ... instructions are included on the registration form.
Business partner sponsors have had several weeks to invite guests to be part of their bay group. If you have not yet been invited by a business partner sponsor but still want to participate in the outing, please visit the registration link below and register as an individual. You can leave a note to request that you're in the same bay as someone specific, if you'd like. The golf outing committee will make every effort to get everyone grouped up with whom they prefer. We are excited about this event and hope to see you there! The cost is $85 for individual golfers. We are also offering the opportunity to simply network and enjoy lunch - $35 covers that.
10:45am Sign In Begins
11:00am – Noon Appetizers & Instruction from Golf Professional
Noon – 2:00pm Topgolf Games & Networking
2:00pm – 3:00pm Lunch & Awards
Questions? For golf please contact Jim Ambrosio; for sponsorships please contact Kathie Cesa.
---
THANK YOU to everyone participating in the 2018 golf outing!
We enjoyed a beautiful day of fun on the Links!
Winners of note:
Lowest score - Team Bowers ... Jonathan Bowers, Bob Bowen, Roger Talley and Chas Williams
Longest Drive: Jane Rogaliner and Dave Dye
Longest Putt: Brittany Bowers and Jim Ambrosio
Sponsors
Gold Sponsors:

Silver Sponsors:

Bronze Sponsors: